How a cyclist who doped to ride an amateur event blew open the Russian drug scandal
What started as a documentary into cheating anti-doping rules in sport, turned into something else when film-maker Bryan Fogel helped uncover Russia's doping scandal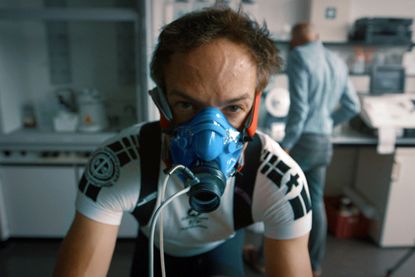 (Image credit: Netflix)
When filmmaker Bryan Fogel headed to the Haute Route sportive jacked up on steroids and human growth hormone, it was as a human guinea pig for a Morgan Spurlock-like immersive documentary on how athletes are able to cheat the testing labs.
Never mind that the Alpine event is only semi-competitive and anti-doping controls were really only a theoretical possibility, because this all ends up the mere introduction to the runaway plot of a far harder-hitting film, Icarus, released on Netflix on Friday (August 4).
From self-experimentation on wheels, the cyclist's film unexpectedly evolved into a Citizenfour-like story behind the recent blowing open of Russian state sponsored doping.
"It was not at all the film I set out to make at the beginning," Fogel told Cycling Weekly when the Sundance Film Festival visited London in June.
A cyclist since he was 13, Fogel said that the film's genesis lay "not so much in cycling's past and whether guys today are still using drugs, but because it was the sport that I knew, loved and followed.
"I grew up racing with the guys who became the top Americans. It was my vehicle of how to tell this larger story."
https://www.youtube.com/watch?v=qXoRdSTrR-4
And it was the top American cyclist of all's appearance on Oprah in January 2013 that set Fogel off on the project.
"Here was this guy confessing he'd used performance-enhancing drugs his entire life. But it was like how Al Capone was caught — he was never caught for murder or racketeering. They got him on tax evasion.
"And here, after 12 or more years of chasing Lance Armstrong since 1999, with him being the 'most tested athlete on planet earth', this guy had still never failed a drug test."
Fogel wanted to find out how.
Had the film stuck to its original brief it may not have got any further than the festival circuit. Similar programmes have been made before.
However, the involvement of charismatic Russian expert Grigory Rodchenkov as Fogel's adviser unwittingly gave the film its legs — and multiple boosts of funding.
>>> Watch: Tour de Pharmacy film trailer pokes fun at doping in pro cycling
"Little did I know that this guy was essentially the mastermind of Russia's state-sponsored doping programme," said Fogel.
When Rodchenkov falls under scrutiny following an investigative German documentary, the Moscow anti-doping lab boss flees to the USA and blows the whistle on an evasive Olympic testing scam, allegedly ordered from the very top of Russia's political regime.
"He turned out to be a Russian version of Edward Snowden," notes Fogel.
Fogel's emerging friendship with Rodchenkov couldn't have given him a much more privileged insight, albeit with the added stress of becoming the representative, spokesperson and guardian of a man who eventually goes into witness protection.
While by no means a comprehensive — or impartial — look at the scandal that threatened to keep Russia out of the Rio Olympic Games, it will make compelling viewing for readers of CW, already well-versed in the lengths athletes and teams might go to ensure success.
"It became this responsibility of how I tell this story," said Fogel, whose priceless footage includes the dropped jaws of WADA officials to whom he presents Rodchencov's revealing evidence.
"It was no longer about me. It was no longer about what Armstrong had done or possibly what's going on right now. It became this story [that's affected much] of sport history."
Thank you for reading 5 articles this month* Join now for unlimited access
Enjoy your first month for just £1 / $1 / €1
*Read 5 free articles per month without a subscription
Join now for unlimited access
Try first month for just £1 / $1 / €1