Cycling minister 'blown away' by Danish infrastructure after Copenhagen visit (video)
Robert Goodwill acknowledges Britain has some way to go in reaching the levels of cycling infrastructure seen in the Danish capital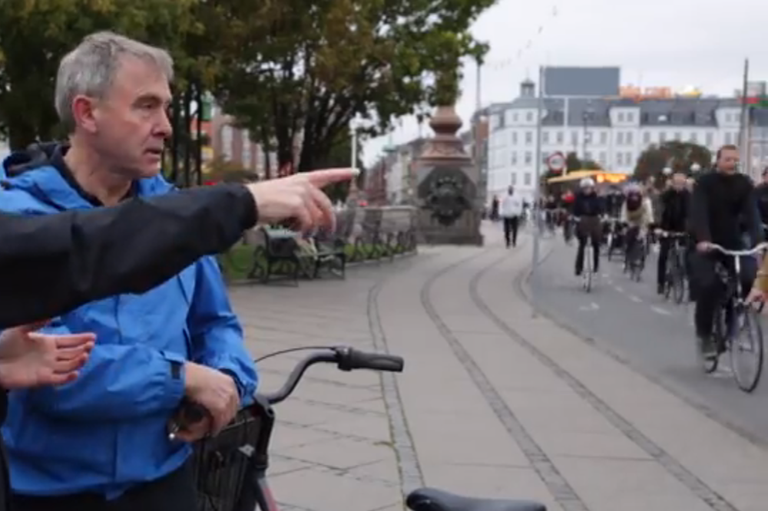 Minister of State for cycling, Robert Goodwill, says he was blown away by his recent trip to study cycling infrastructure in Denmark, saying it encourages him to continue finding ways to improve the lives of cyclists in the UK.
Invited by British Cycling and Chris Boardman, Mr Goodwill visited Copenhagen to discover the reasons why 63 per cent of Copenhageners' commutes to school or work were made by bike.
"It was rather a shock to see just how many people were cycling," Mr Goodwill said of his visit. "When I say people, I mean just that - ordinary people in ordinary clothes; people of all ages, people with young children, and a lot of women.
"The other thing that struck me was that if all of those people on their bikes had been in cars, the place would have been completely jammed. So I think the motorists understand that having all these people on bikes actually gives them more space to get around. It's all very impressive."
Mr Goodwill acknowledged that the UK has some way to go in order to reach the levels of infrastructure seen in the Danish capital, but the visit has opened his eyes to 'innovative ways of working'.
"Here, we've seen vast numbers of people on bikes, very good provisions on the roads and a lot of innovative ideas that I'm sure we'll be taking back with us," he added.
"This has happened over a long period of time. The problem we have in Britain is that we should have started 30 years ago. That means we need to re-double our efforts to ensure we get what the Prime Minister called a 'cycling revolution' in the UK, so we can come here without having to hang our heads in shame a little bit.
"I've been blown away by what I've seen in Copenhagen, and that's given me an additional feeling of wanting to re-double our efforts back home to ensure that we can do more for cyclists."