'I think it looks cooler than the original': Young rider creates amazing pumpkin helmet for Halloween
Dan Charlton creates amazing Kask Pumpkintone for club pumpkin carving competition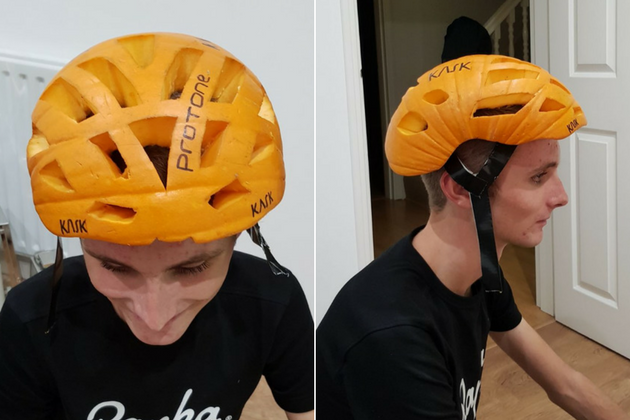 In what is certainly one of the best cycling-related Halloween costumes of all time, a young rider from the north east has created a replica Kask Protone helmet out of a pumpkin.
Dan Charlton sculpted his creation for the Hetton Hawks CC pumpkin decorating contest, creating the design by cutting the pumpkin in half then sketching the vents onto the skin to cut out.
Dan said that the job took him about an hour and a half, although admitted that there was probably some other stuff that he should have been doing during his last year at school.
"I probably should have been finishing off my Uni application and some A-level stuff but I think I prioritised correctly," Dan said.
"It doesn't exactly meet any EU safety standards and I'm not confident it offers much crash protection but I'd say it definitely looks cooler than the original Kask design.
"Also, it's a few days old so the little crash protection it did offer is getting a bit soft by now. But I think it would definitely turn some heads on the start line of any race."
>>> This cycling watch is so expensive that it comes with a Colnado C60 as a 'free gift'
After competing in the National Hill-Climb Championships on Sunday, Dan's attention is now back on the pumpkin carving competition for 2018.
"The pressure is definitely on for next years design," Dan continued. "I think I'll go for an aero helmet with fewer vents because trying to line them up was a bit tough."