This cycling watch is so expensive that it comes with a Colnago C60 as a 'free gift'
Only 30 units of the $815,500 watch will be made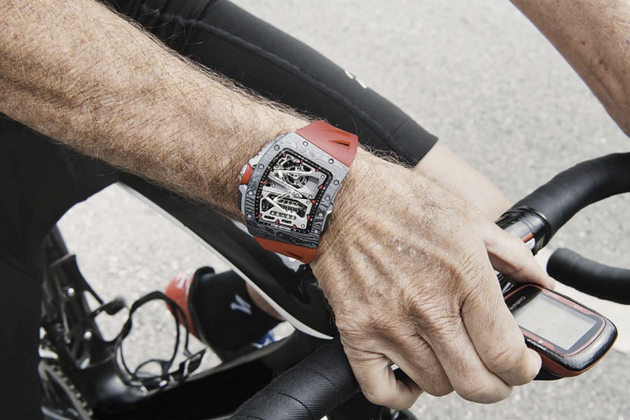 We're not convinced by the idea of wearing a watch for cycling (having to look at your wrist all the time might distract you from having to look at the road) but there's obviously a market for them as high-end watchmaker Richard Mille has just launched a new model, with a suitably high-end price of $815,500 (£617,170) and a "gift" of a Colnago C60.
>>> Chain Reaction Cycles discounts: 13 great deals on Shimano, Castelli, Fizik, and much more
Having the snappy name of RM 70-01, the new watch has a rather unique design, with a curved look that is apparently not just for aesthetics, but also to accommodate cyclists' wrist position when riding - although we're not sure what happens if you decide to wear it on your left wrist, in which case the design means it would dig into your hand.
Watch: Unboxing the Garmin Edge 1030
For the price, you might also expect a bit of high-tech functionality, but there's no GPS or GLONASS in sight, with the mileage counter on the watch face having to be manually updated by its wearer, presumably after tracking mileage on a higher-tech and considerably cheaper GPS device.
>>> Garmin Edge 1030 first impressions: has Garmin improved with its new top-end device
The good thing is that if you're wearing this watch then you mileage is also likely to go up, as those lucky enough to get their hands on one of the 30 watches that will be made also being given a "free gift" in the form of a custom, matte-black Colnago C60 (although there might be cheaper ways of getting your hands on a nice new bike).