Dan McLay and Annasley Park win Otley Grand Pix races (video)
Dan McLay secures sprint win in Otley Grand Prix as crowds turn out on warm evening in West Yorkshire. Photos by Andy Jones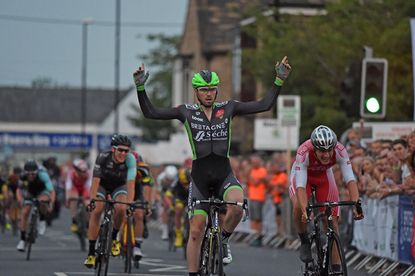 (Image credit: Andy Jones)
Dan McLay (Bretagne-Seche Environnement) won the Otley Grand Prix in West Yorkshire on Wednesday evening, with Annasley Park (Giordana-Triton) claiming the victory in the women's event.
McLay out-sprinted Chris Latham after the latter's 100% ME team had played a large role in trying to organise the race for Latham during its closing stages.
Jon Mould (One Pro Cycling) came home for third in the opening round of the British Cycling Elite Circuit Race Series.
Park took the women's race win after spending almost its entirety in an escape with Dame Sarah Storey (Pearl Izumi-Sports Tours International). Nineteen-year-old Park got the better of the multiple Paralympic champion in the close final sprint.
Park's Giordana-Triton team-mate Nicola Juniper headed the chasing group home in third to continue her lead in the British Cycling Women's Road Series with two rounds remaining.
Results
Otley Grand Prix
1. Dan McLay (Bretagne-Seche Environnement)
2. Chris Latham (100% ME)
3. Jon Mould (One Pro Cycling)
4. Morgan Kneiskey (Raleigh-GAC)
5. Scott Thwaites (Bora-Argon 18)
6. David McGowan (Pedal Heaven RT)
7. Felix English (JLT-Condor)
8. George Atkins (One Pro Cycling)
9. Dale Appleby (NFTO)
10. Liam Stones (Raleigh-GAC)
Otley Women's Grand Prix
1. Annasley Park (Giordana-Triton)
2. Dame Sarah Storey (Pearl Izumi-Sports Tours International)
3. Nicola Juniper (Giordana-Triton)
4. Rebecca Nixon (Fusion RT)
5. Abby-Mae Parkinson (Giordana-Triton)
6. Brit Tate (WNT)
7. Amira Mellor (Paul Milnes-Bradford Olympic)
8. Elizabeth-Jane Harris (Army Cycling Union)
9. Bethany Hayward (Pearl Izumi Sports Tours International)
10. Elizabeth Stedman (University of Sheffield CC)
Thank you for reading 20 articles this month* Join now for unlimited access
Enjoy your first month for just £1 / $1 / €1
*Read 5 free articles per month without a subscription
Join now for unlimited access
Try first month for just £1 / $1 / €1