Dangerous junctions for cyclists to be ripped out and replaced in London
Capital's road junctions that pose a threat to cyclists will be completely overhauled to make them safer in a £300m programme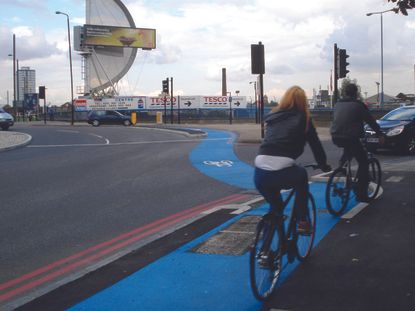 Thirty three of London's most dangerous junctions for cyclists and pedestrians, including its worst gyratories, will be ripped out and replaced with safer designs, it was announced today.
Among the '60's relics' to be tackled as part of the Mayor's cycling vision are the gyratories at the notorious Elephant and Castle roundabout, with London's highest cycle casualty rate, as well as Bow Roundabout, Kings Cross, Archway, Swiss Cottage and Wandsworth. Vauxhall and Hammersmith gyratories are among those to be replaced with two way roads, segregated cycle tracks and new public spaces.
The £300 million programme will see an average of £9 million spent on each junction where, in the last three years, more than 150 pedestrians and cyclists have been killed or seriously injured.
The Mayor of London, Boris Johnson, said: "These road junctions are relics of the Sixties which blight and menace whole neighbourhoods. Like so much from that era, they're also atrociously-designed and wasteful of space. Because of that, we can turn these junctions into more civilised places for cyclists and pedestrians, while at the same time maintaining their traffic function."
The London Cycling Campaign (LCC) welcomes the death knell for these junctions, with safer crossings for pedestrians and cyclists and is pleased the funding was increased to £300 million from the £19 million proposed before the Mayor's cycling vision was announced last year. It said the announcement vindicates the actions of thousands of people who supported its campaigns for safer junctions.
The LCC's chief executive, Ashok Sinha, said: "At last we have a firm commitment, and the funding, to tackle the main barriers to cycling as identified by cyclists in the capital. Rapid implementation of this programme will help reduce deaths and serious injuries to cyclists, as well as make our roads safer for pedestrians too. We share the Mayor's view that gyratories blight our capital and removing them will improve quality of life for all."
Parliament Square, Aldgate and Marble Arch will also be tackled. In addition to the 33 announced today additional junctions, including those along the notorious CS2 and other proposed and upgraded cycle superhighways, will be improved.
While the Hyde Park Corner gyratory is not in the list of 33 junctions, it will be among the new proposed batch of cycle superhighways. Among those dangerous junctions notably missing from the proposals are Bricklayers' Arms, Aldwych, Holborn and Stoke Newington.
Leon Daniels, Managing Director of Surface Transport at TfL, said: "For over a year our designers and engineers have been working flat out to develop new junction designs for these 33 locations to completely change how they operate, transforming their areas for cyclists, pedestrians and the wider local community. They are some of the busiest traffic intersections in Europe, so this work has been complicated. But we are now fully committed to delivering these junction improvements as quickly as possible, making London safer and more inviting for all."
A map of the junctions to be tackled can be found on TfL's website and the proposed central London grid here.
Transport for London estimates that up to 70% of the capital's citizens aged 15-69 could meet physical activity needs by
London's cycling commissioner, Andrew Gilligan, says people's perceptions of the danger of cycling are being heightened by adverse coverage
Thank you for reading 10 articles this month* Join now for unlimited access
Enjoy your first month for just £1 / $1 / €1
*Read 5 free articles per month without a subscription
Join now for unlimited access
Try first month for just £1 / $1 / €1