More Londoners cycling and walking could create £2bn economic health benefit
Transport for London estimates that up to 70% of the capital's citizens aged 15-69 could meet physical activity needs by cycling or walking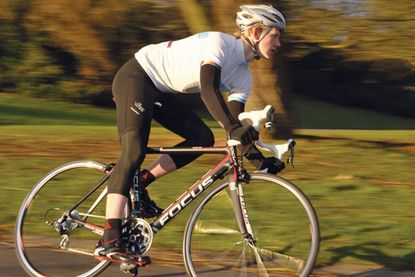 Transport for London has released a new health improvement action plan which spells out the health benefits of encouraging cycling and walking in the capital.
The report says the expected growth in cycling in London up to 2026 could deliver £250m in health economic benefits annually. Between 25-30% of 15-69 year old Londoners currently meet their physical activity needs by walking and cycling, but the report estimates this could be as much as 70%, with health economic benefits of more than £2bn annually.
Campaigners welcome the report, which highlights the importance of people friendly streets in encouraging walking and cycling, but are unsure what this will mean for transport policy.
CTC's Campaigns and Policy Director, Roger Geffen, said: "I haven't worked out what it means in practice but as a statement of it is useful in terms of evidence.
"There is a consistent body of evidence that physical inactivity outweighs the risks. Consistently it is an order of magnitude and if you do anything that scares people off cycling it is bad news because it will shorten more lives than it will save," he said.
London's Transport Commissioner, Sir Peter Hendy CBE, said: "Transport has a significant role to play in helping to tackle the major public health challenges our city faces. If we can make the environment and our public spaces more inviting, then that will also encourage people to be more physically active. That's why we're investing £4bn over 10 years to make our streets and roads greener, safer and more inviting for pedestrians and cyclists as part of their daily lives."
The TfL Health Action Plan sets out ten actions to be delivered over the next three years including quantifying the health impact of its projects and policies, including working with boroughs, central government and the NHS to encourage active travel. Success will be measured on the percentage trips walked or cycled, air quality, road traffic collisions and noise levels.
Sustrans London Director, German Dector-Vega said: "Joining up Transport for London's work with health professionals is extremely important. Only by working together and taking the 'whole street approach' can we begin to understand the importance of street design to our health.
"It highlights how one of the easiest ways for us Londoners to get the huge health benefits of an active lifestyle is to improve the conditions on our streets for walking and cycling. We now look forward to seeing this visionary plan put into practice."
According to the report "active travel is the only viable option for significantly increasing physical activity levels across London's whole population". Physical activity is active travel's greatest health contribution to good health, followed by air quality, road traffic collisions and noise reduction.
London has the highest childhood obesity rates in the country, with only six out of 10 children a normal weight when they reach secondary school, while 58% of men and 51% of women in the capital are overweight or obese.
Any vehicle weighing over 3.5 tonnes must be fitted with equipment designed to ensure safety of cyclists on London's roads
Thank you for reading 10 articles this month* Join now for unlimited access
Enjoy your first month for just £1 / $1 / €1
*Read 5 free articles per month without a subscription
Join now for unlimited access
Try first month for just £1 / $1 / €1