Disc brakes banned from L'Etape du Tour and other French sportives
FFC follows the UCI's disc brake ban for all events under its control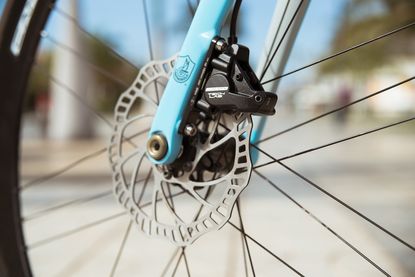 Following on from the UCI's decision to suspend its trial of disc brakes in the professional peloton, the French Cycling Federation (FFC) has decided to ban the use of discs in all events under its jurisdiction, which includes L'Etape du Tour and many other major French sportives.
>>> Etape du Tour 2016: a rider's guide
In a statement, the FFC said "following the decision of the UCI on 14 April 2016, the Federal Bureau at its meeting on 14 April 2016 decided to ban the use of disc brakes on all road events organized under the authority of FFC."
This includes the majority of amateur road races in France, although of more pressing concern to British riders is the fact that it also includes hundreds of major sportive events across the country (click here for the full list), including L'Etape du Tour, La Marmotte, and L'Ariegeoise.
>>> 17 of the best international sportives to ride in 2016
L'Etape du Tour, which in 2016 traces the route of the 20th stage of the Tour de France from Megève to Morzine, has become increasingly popular among British riders in recent years, with more tahn a fifth of entrants coming from the UK last year.
Sportives taking place on French soil but which are not organised under FFC rules are not affected by the decision, so you can rest easy if you're planning to use disc brakes in events such as the Haute Route, Alpine Challenge, or one of the numerous London-Paris rides.
Thank you for reading 20 articles this month* Join now for unlimited access
Enjoy your first month for just £1 / $1 / €1
*Read 5 free articles per month without a subscription
Join now for unlimited access
Try first month for just £1 / $1 / €1