DIXON SCORES ON HOME GROUND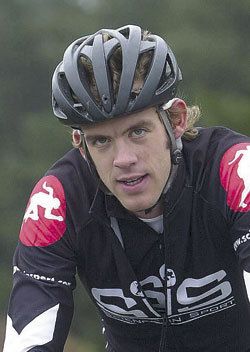 NEW National Trophy leader Phil Dixon (Trek-SiS) flexed his muscles with a convincing win against a big local field for today?s ninth round of the popular Notts and Derby Cyclo-Cross League, staged by VC Nottingham in the grounds of Swanwick Hall School, Derbyshire.
Dixon, who took over at the head of the Trophy when he finished second to German visitor Malte Urban at Ipswich last Sunday, soloed his way to a 72-second victory over former Notts and Derby champion Dan Alexander (Ace RT) at the end of eight laps.
Alexander?s team-mate James Furniss, the defending league champion, was pushed back to third place behind veteran Geoff Giddings.
The latest Notts and Derby event attracted a field of more than 80 riders for the main race.
Also attracting a big field of 74 riders today was the Oxonian CC cyclo-cross in the grounds of Oxford School, Cowley, where Tim Dunford (Hargroves Cycles) came in 46 seconds clear of Adrian Lansley (Didcot Phoenix).
It was the biggest line-up for an Oxonian event since they promoted the national veterans? championship 13 years ago.
VC Nottingham cyclo-cross (Swanwick Hall School, Derbys).- Phil Dixon (Trek-SiS) 8 laps in 46-32; 2, D. Alexander (Ace RT) at 1-12; 3, G. Giddings (unatt) at 2-06; 4, J. Furniss (Ace RT) at 2-25; 5, P. Cox (GoSportsSpex RT) at 3-00; 6, B. Eedy (South Pennine RC) at 3-38. Veterans.- Geoff Giddings. Juniors.- Adam Turner (unatt). Women.- Louise Day (Team FBUK).
Oxonian CC cyclo-cross (Oxford Comm School, Cowley).- Tim Dunford (Hargroves Cycles) 9 laps, 13 miles in 56-12; 2, A. Lansley (Pedal On) at 46sec; 3, P. Lloyd (Didcot Phoenix) at 2-03; 4, P. Smith (Hargroves Cycles) at 4-16; 5, A. Green (GA Cycles) at 4-26; 6, K. Sheridan (Comedy Super Team) at 5-45. Veterans.- Tony Green. Juniors.- Tom Butt (DH Cyclesport). Women.- Claire Hall (Swindon RC).
Thank you for reading 5 articles this month* Join now for unlimited access
Enjoy your first month for just £1 / $1 / €1
*Read 5 free articles per month without a subscription
Join now for unlimited access
Try first month for just £1 / $1 / €1
Snowdon Sports is a long-established independent sports news agency, which supplies editorial to a range of media outlets - such as Cycling Weekly - as well as sports governing bodies. Snowdon Sports often covers results at Cycling Time Trials events in the UK and has long been a source of information and imagery to Cycling Weekly.