DOWNING CEMENTS GIRVAN LEAD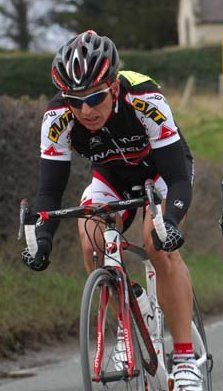 PINARELLO RT ace Russell Downing extended his lead in the Girvan Three-Day when he won stage two, a 16.5-mile criterium, on Saturday evening.
Having won the opening 65-mile stage earlier in the day, Downing bagged a second lot of time bonuses with a sprint finish to the second stage, run off on a 1.1-mile circuit which the field covered 15 times.
Earlier in the day, Downing had been given a superb lead out by veteran team-mate Malcolm Elliott to win the first stage. Elliott peeled off at just the right moment to leave Russell Downing to take the win by two seconds from brother Dean Downing, the Rapha Condor-Recycling team leader who is leading the Premier Calendar series.
Third spot in the sprint went to Scot Evan Oliphant (Plowman Craven-Evans Cycles), while Pedal Power?s Gary Hand is wearing the Carrick Gazette King of the Mountains jersey and Peter Williams of Pinarello the Endura Hot Spots Sprints jersey after dominating the three intermediate sprints.
?It?s good to get the win,? said Russell after stage one. ?We were all tired before the Bikeline because we had just come back from training in Majorca that week and we were still getting used to the new bikes.
?But today we were really firing. We had to work hard to keep the race together, but once we caught the last of the breaks Malcolm gave me a great lead-out.?
Among the big losers of stage one was the Sigma Sport team, who had Rob Sharman as a non-starter. Matt Stephens and Neil Swithenbank failed to finish, while Andrew Bye in 30th and James Williamson in 31st were their only finishers inside the top 50.
Stage three on Sunday is an 89-mile course through Newton Stewart and New Galloway, with three climbs and three sprints throughout the day.
Keep checking back to www.cyclingweekly.com for more details.
Girvan Three-Day (Stage two, 16.5 miles).-
1 Russell Downing (Pinarello RT)
2 Simon Gaywood (Plowman Craven RT)
3 Graham Briggs (Rapha Condor-Recycling) all same time
Girvan Three-Day (Stage one, 65 miles).-
1 Russell Downing (Pinarello RT) 2-34-57
2 Dean Downing (Rapha Condor-Recycling) at 2sec
3 Evan Oliphant (Plowman Craven RT)
4 Ian Wilkinson (Science in Sport.com)
5 Dale Appleby (Rapha Condor-Recycling) all same time
6 Graham Briggs (Rapha Condor-Recycling) at 4sec
7 Tom Barras (Plowman Craven RT)
8 Rob Partridge (Rapha Condor-Recycling) same time
9 Tony Gibb (Plowman Craven RT) at 5sec
10 Tom Murray (Pinarello RT) same time
Team.-
1 Rapha Condor-Recycling 7-44-59
2 Plowman Craven RT at 3sec
3 Pinarello RT at 4sec
Carrick Gazette King of the Mountains.-
1 Gary Hand (Pedal Power.org) 8 pts
2 Simon Richardson (Plowman Craven RT) 5
3 Simon Gaywood (Plowman Craven RT) 4
Endura Tal Sprints.-
1 Peter Williams (Pinarello RT) 7 pts
2 Simon Richardson 4
3 James McCallum (Plowman Craven RT) 4
Thank you for reading 20 articles this month* Join now for unlimited access
Enjoy your first month for just £1 / $1 / €1
*Read 5 free articles per month without a subscription
Join now for unlimited access
Try first month for just £1 / $1 / €1