EAST MIDLANDS WIN INTER-AREA TEAM CHAMPS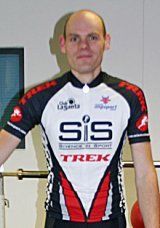 HOST region East Midlands ran out senior winners of the Inter-Area Cyclo-Cross Team Championships, but only after a thrilling battle demanded a recount of the positions with the North West breathing down their necks.
The event at Misterton Hall near Lutterworth, Leicestershire, took place on a technically challenging course which included fast shale paths, tarmac roads, woodland and strength-sapping meadowland.
Although reigning National Trophy series leader Paul Oldham was first across the line for the North West in 54-33, the East Midlands placed consistently with two of their counting four riders in the top six.
Dave Collins (pictured) was 17 seconds behind Oldham as the East Midlands top rider, while the North East?s Stuart Wearmouth was third, another 1-03 off the pace.
Dan Booth was sixth for the East Midlands, while Ben Eedy and Lee Shunburne were 14th and 16th respectively to give their region the win by four points.
Rob Jebb took fifth, Lewis Craven eight and Dave Haygarth 28th for the North West to leave them on 42 points, while Wales placed third with Lee Williams, Ben Simmons, Anthony O?Boyle and Andrew Baum in ninth, 10th, 17th and 27th respectively.
Reigning champions London had to settle for fourth, led in by Matt Holmes in 11th spot.
In the veterans category Yorkshire won with Chris Young and Noel Clough taking first and second, while team-mate Martin Eadon completed the victorious trio in sixth place.
With Andy Shaw and Anthony Green fourth and fifth Wessex took second in that category, with 11th place from Will Girvan completing their team, while East Midlands were third, Geoff Giddings taking third overall to lead them to a medal.
With Isla Rowntree first, Louise Robinson third and Nadine Spearing fourth, the West Midlands won the women?s race convincingly, while London successfully defended the youth title with Hugo Humphreys, Sam Fry and Max Sykes just pipping Yorkshire trio of Tom Moses, Paul Young and Oli Webster.
Thank you for reading 20 articles this month* Join now for unlimited access
Enjoy your first month for just £1 / $1 / €1
*Read 5 free articles per month without a subscription
Join now for unlimited access
Try first month for just £1 / $1 / €1