Emma Johansson is latest cyclist to have medical data published by hackers
Rio 2016 road race silver medallist Emma Johansson has her therapeutic use exemption certificate published by Fancy Bears hacking group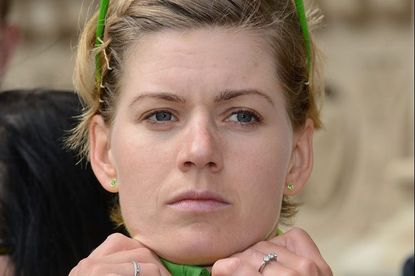 Swedish pro cyclist Emma Johansson is among the latest batch of medical data to be published by the Russian hacking group Fancy Bears.
Rio 2016 Olympic Games road race silver medallist Johansson, who rides for Wiggle-High5, had her therapeutic use exemption (TUE) certificate placed online by Fancy Bears on Monday.
Fancy Bears illegally accessed confidential TUE files stored on the computer system of the World Anti-Doping Agency (WADA). They have been publishing them in batches over the past month, with Johansson's TUE part of the sixth batch.
Johansson has just a single TUE, for anaesthetic drugs alfentanil and sufentanil used during an operation in October 2015 to repair a broken collarbone. The drugs were administered intravenously.
>>> Steve Cummings's medical data published by Russian hackers
A comment on the TUE - presumably made by Johansson - reads "Got these medicaments during my operation, have not gotten anything since then".
Venezuelan BMX rider Stefany Hernandez also had her TUE published, for asthma drug Seretide (fluticasone propionate) administered via an inhaler. The TUE ran from September 15 2014 to January 15 2015.
No British cyclists were included in the latest round of TUEs published by Fancy Bears. The lone British athlete was Olympic triathlon champion Alistair Brownlee, whose TUE is for acetazolamide, an altitude sickness drug. Brownlee said via Twitter that he was given the drug after suffering from altitude sickness while climbing Kilimanjaro in October 2013.
TUEs are issued when a drug that is on WADA's prohibited list is administered for a legitimate medical reason. The presence of a TUE is not a sign of wrongdoing.
Previously, Fancy Bears have published the TUEs for British cyclists Chris Froome, Bradley Wiggins, Steve Cummings, Laura Trott and Callum Skinner.
Thank you for reading 5 articles this month* Join now for unlimited access
Enjoy your first month for just £1 / $1 / €1
*Read 5 free articles per month without a subscription
Join now for unlimited access
Try first month for just £1 / $1 / €1