End to end tandem record attempt
Glenn longland and Dominic Irvine on their failed end to end tandem record attempt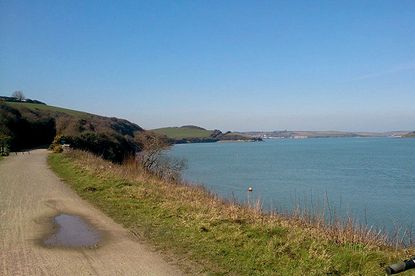 How many cyclists do you know who have ended a ride collapsed on a grass verge in need of oxygen, a drip in each arm and a trip to A&E?
"I could hear what was going on," Glenn Longland recalled. "They kept shouting at me, and then I'd stop and just look at them. I just couldn't move."
Longland, one of cycling's most decorated and no-nonsense long distance time triallists, has seen his fair share of A-road lay-bys, but no experience can really come close to the one just north of Penrith in Cumbria in the twilight hours of May 5.
"I've never ever, in all my years of racing, had it where I couldn't feel my legs like that," he said.
Longland was there after departing Land's End at 6am the previous day with his tandem pilot, Dominic Irvine. Their destination was John o' Groats and with it, a 48-year-old record. It was the sort of attempt that needed meticulous planning, and the pair certainly had it.
They had penned their precise route, complete with timings. They were followed by a support team of several cars, helpers, timekeepers, a doctor and a photographer. They had a custom tandem from British company Orbit, and Irvine had calculated the ride down to the last detail, estimating he would burn 19,000 calories in the attempt, spinning the pedals 250,000 times.
And yet after almost 26 hours of riding and 457 miles their attempt came to a halt.
Slick teamwork
The tandem 'End to End' record is a bit of a conundrum. Logically tandems should go faster than solo bicycles, yet the tandem mark is longer than the solo effort over the same distance, and not by a matter of seconds.
Gethin Butler's solo record of 44 hours, four minutes and 19 seconds, which he set in 2001 (before doing a U-turn and setting the record for 1,000 miles), is over six hours quicker than the tandem record of 50 hours, 14 minutes and 25 seconds set by Pete Swinden and John Withers on June 8, 1966.
"It's not good enough to be a good cyclist," Irvine said. "You have to be a good team. "With two riders there are more things that happen, even down to whether one rider needs a comfort break. As everyone gets more tired, the challenge is to be a really effective team when you're tired. Therein lies the difficulty."
You could spend days dissecting what went wrong with Longland and Irvine's attempt; besides the fatigue, Irvine had been knocked off his bike a fortnight before, the pair seldom picked up much of a tailwind during their effort, and had to ride on through chilling fog in Cumbria.
It would also be fair to say that Longland's 'old school' and Irvine's 'new school' approaches didn't quite gel as they might have hoped. Irvine aimed to ride the distance to a precise wattage of 240W, while Longland churned out the miles and stuck to his tried and tested diet of a rice and fruit salad smoothie, Eccles cakes and sandwiches.
"Wilko [long distance time trial legend Andy Wilkinson] was up having a chat with us during the attempt and I said: 'That's the boy, just like me, no computer, no wattage, no pulse things,'" Longland said. "And Dominic nearly bit my head off, because that's how he rides. So I didn't say that any more."
Longland and Irvine are not the first to succumb to the tandem End to End. There have now been nine attempts at beating Swinden and Withers's record, including mixed tandems. None have succeeded.
Irvine made it to the finish once before, with Ian Rodd in 2012, but was out of time. Olympic rower James Cracknell has tried twice and failed twice, once with Rebecca Romero and again with Jerone Walters.
It seems the record is building a reputation. But would an easy record be worth beating?
"I understand what's involved and the scale; it's massive, it's monumentally massive," Irvine says. "And had I cracked it at the first attempt we would not have done justice to how significant a record it was.
"If someone out there thinks they're up for the challenge, and thinks they could be a good stoker, I'm up for that conversation!"
Dominic Irvine
"At 2am we had 40 or 50 people at one of the scheduled stops. You're thinking, 'Where the hell have these people come from?' but that level of support gives you such a boost of positive energy"
Glenn Longland
"At Warrington it was like being at a bloody football match, I loved it. Everyone knows me up there, being president of the Warrington Road Club. And they've got to turn up else I'll tell 'em off"
The originals - 1966 record
The fact that the tandem record from Land's End to John o' Groats still belongs to Pete Swinden and John Withers 48 years after they set it is one thing. That the duo even finished the course is a feat in itself.
"I went into hospital twice!" recalled Swinden with a chuckle. "I started getting knee pain quite early on. Tewkesbury was when I first noticed it.
"They didn't get through to [our doctor] until past midnight, but he said he'd got a friend in Perth: Dr Merry. Apparently he announced himself as, 'My name's Merry, as in Christmas,'" Swinden added. "But when we got there he had been called away urgently.
"The other doctor got me on the table and pressed down on my knee and said, 'Does that hurt?' I yelped, 'Yes,' but I think it would have done anyway because he was a great big chap whose game was rugby."
At this point, Swinden explained, riding from Gloucestershire to the edge of the Scottish Highlands had all but seen off his knee pain. However, at the insistence of their support crew the pair called in to Inverness hospital for one final whack of painkilling injections.
"The nurse knew nothing about my knee at all and she was shaking," Swinden said. "She started putting four or five injections in, and she was putting them in the wrong knee. Then she left the needle hanging in my leg, and I passed out.
"I had to discharge myself, she wouldn't be responsible. That was another 25 minutes at Inverness hospital."
Withers passed away in 1990. However, Swinden was out on the A5 near his home to shout "dig in" to Longland and Irvine as they flew past during their attempt. "I felt desperately sorry for them," Swinden said. "But yeah, I did feel a little bit smug I suppose."
Thank you for reading 10 articles this month* Join now for unlimited access
Enjoy your first month for just £1 / $1 / €1
*Read 5 free articles per month without a subscription
Join now for unlimited access
Try first month for just £1 / $1 / €1
Richard Abraham is an award-winning writer, based in New Zealand. He has reported from major sporting events including the Tour de France and Olympic Games, and is also a part-time travel guide who has delivered luxury cycle tours and events across Europe. In 2019 he was awarded Writer of the Year at the PPA Awards.