Exclusive: Sir Bradley Wiggins discusses his classic bike collection
The British cycling great sits down with CW to talk through his vast collection of vintage racing bikes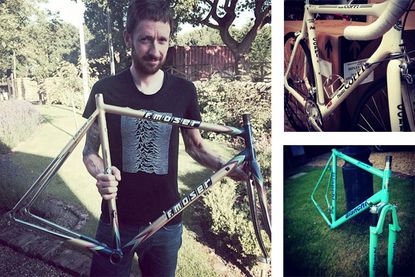 (Image credit: Sir Bradley Wiggins/Instagram)
Bradley Wiggins's collection of bicycles is about as, or maybe more so, serious as his wins. As the he turned from Bradley to Sir Wiggo, he amassed enough paraphernalia to make a modest collector blush.
When he sat down with Cycling Weekly earlier this year, he explained that he'd not seen the collection of bicycles Ernesto Colnago keeps next to his factory. But it looks as though Wiggins has just as many, spread out in locations around England and Europe, even if they're not on display like those the famous Italian bike builder.
It keeps growing, too. Boxes of new Shimano groups and wheels sit next to blue and black Pinarellos that he used over his five years with Sky, from the Tour of Qatar in 2010 until the Paris-Roubaix in 2015.
He parked his Roubaix ride next to another Pinarello, a white one used by his childhood idol, 'Big Mig' Miguel Indurain in the 1990s. Those bikes inspired him for the Hour Record in the same way that Colnago absorbed the historic and winning energy from his collection parked next door.
Watch: Bradley Wiggins' time trial minute man
Beyond the Sky rides, Wiggins' collection includes team bikes or parts from his 14-year span as a road professional: FDJ's Lapierre, Crédit Agricole's Look, Cofidis's Time and Wilier, Highroad's Giant and Garmin's Felt. Track bikes are leaning one against another, some mixed in, like his Roubaix ride, with bikes from other eras.
G. Bugno in black block letters and Polti, an Italian appliances manufacturer and former team sponsor, stand out on a carbon Fausto Coppi frame painted white. Wiggins does not ride it, he just admires it.
"I just love cycling," Wiggins says.
"I love all that era, the late 80s, 90s... That was a big part of me and I'm not too cool to think that somehow that inspired me."
The same inspiration comes from the Jan Ullrich and Miguel Indurain bikes, or those frames from teams Gewiss-Ballan and Mapei. Some are built, some are sitting alone waiting to be matched with kit and are yet to see the light of day.
Kit isn't a problem either. Wiggins has everything from the 80th anniversary Campagnolo Super Record to 1995 Shimano Dura-Ace groupsets – "all mint," he says.
"A lot of what I find is through eBay. I have a local shop that tools them and puts in the bottom brackets, and stuff. At the moment, I have piles of stuff and I haven't really got around to building it all up."
The obsession is what some doctors would call hoarding. One who collects for the sake of collecting and never really uses what he has. In the book Stuff, Doctors Randy Frost and Gail Steketee write that hoarding may not be a subset of obsessive-compulsive disorder or OCD, but a disorder of its own.
"It may stem from an extraordinary ability. For hoarders, every object is rich with detail," they write. "[Hoarding] carries with it an agonising stigma."
That stigma does not exist for Wiggins. He proudly posts photographs of his new acquisitions on Instagram and happily talks about his collection.
And the bicycle collection is not the only one or was not the only one. Wiggins collected Belgian beers, until he drank his way through them all after the 2008 Athens Games. He also has boxing memorabilia, shoes and as Cycle Sport featured recently, scooters.
"I'll probably give up on the Vespas and Lambrettas. It's more in terms of space..." Wiggins adds.
"Bikes have changed so much, they're space-age now. I was chatting with Eddy Merckx about the Hour Record and the bicycle, how it's changed, the wheels, the skinsuits, the helmets... I still love the traditional side of the bike. That's why I was so in love with the bikes in the mid-90s."
Ballerini Colnago C40 replica
"I have one of the first Colnago C40s, like Franco Ballerini used to win Paris-Roubaix in 1995. They were still traditional looking frames, but obviously so advanced. Even our Pinarello F8 now, all the technology that's going into that... They still look like bikes, but they are all space-age now. They are slowly drifting away from that traditional bike because of speed and aerodynamics.
"The C40 was probably my favourite bike. I've never actually ridden one, but just to look at it... It was my favourite. I have a frame but haven't built it up yet. I picked it up off of eBay."
Moser Leader AX Evolution
"It's about the 1990s, Johan Museeuw and GB-MG team riding on those beautiful Bianchis. Just aesthetically, this Francesco Moser frame fits all into those kind of things. It's not one that Francesco used, but one like Gianni Bugno's Gatorade team used in 1991. I still need to build this one up. I don't have time to ride these yet and with the sponsors… if I got seen on stuff like that..."
Indurain's Pinarello time trial bike
"I don't know if you saw Indurain's team Banesto bike, there was a thing about it a couple weeks ago on the internet. I ended up buying it. It's one of his time trial bikes from 1992, he won a stage of the Tour de Romandie on it.
"The seller wanted $75,000 for it on eBay. I didn't pay that, I contacted him directly and asked him straight up, 'How much do you really want for it?' I had a chat with him. He didn't even want that much for it, but he put that price on because he didn't want to get underdone for it.
"I'm not telling you how much I paid for it. Less than 75,000, oh f*** yeah! A lot less!"
Indurain's prototype frames and parts
"I've got a couple of others of Indurain's bikes, they are just ones from my childhood era. A few of his prototype time trial frames that weren't ever used. The Indurain stuff is important for me. I need to get serious about building up the prototype time trial frames. I have the parts. I have the wheels from one of the Espadas that he had.
"A lot of what I find is through eBay. I have piles of stuff and I haven't really got around to building it all up."
Gianni Bugno's Coppi
"Bugno only rode for Polti for one year, in 1994. It wasn't his greatest year, but he won the Tour of Flanders. The lines and curves of this Coppi carbon frame were appealing; I had to have it. The Shimano Dura-Ace groupset and kit is all original. The box rims look great, like the Flanders bike should look, but he often had Ambrosio four-spoke carbon wheels.
"The bike is just part of the bits and pieces, Shamals, and all that sort of stuff that I picked up over the years. I just think someone should document this stuff in some way."
Colnago Olympic Master
"I bought a bike last year, it's just been delivered at the moment. I hadn't bought a bike since I was a kid! "I asked Ernesto Colnago to make me a Mapei Colnago Olympic Master, the old steel model. He made me one and gave me a big museum book. He signed it and thanked me.
"They sprayed it with my name it. I put the original 1995 Shimano Dura-Ace Groupset on it. I had one in a box all-mint. It's a replica of the bike that Johan Museeuw won Flanders on in 1995. When I was 15, I remember watching that and I was in awe of it. When I retire, I'll go to the cafe on it."
Bianchi's Paris-Roubaix RockShox
"I have one of the classic Bianchi bikes used in Paris-Roubaix. I bought one of the original frames of Italian Nicola Minali, who used to ride for Gewiss-Ballan, his Paris-Roubaix frame. Why that one? Why not?
"I like it, that year they had the Bianchi's with RockShox all sprayed in Bianchi's celeste colours. That year, they also had titanium frames with full suspension, but the weather was dry and they used these. I remember Stefano Zanini beat Franco Ballerini for fourth place, stopping a Mapei 1-2-3 – and 4! It's sitting in a corner now, but I'll find the parts to build it up and make it look proper."
Ullrich prototype
"I have an old Pinarello frame that was a prototype from the mid-90s that they built for Jan Ullrich in his early years at Team Telekom. It's white with a little bit of blue on it. It was like super-light scandium at that time. I just put a modern day 80th anniversary Campag Groupset on it to ride to the cafe and back!
"That's about it really. I'm always on the look out for more."
Thank you for reading 20 articles this month* Join now for unlimited access
Enjoy your first month for just £1 / $1 / €1
*Read 5 free articles per month without a subscription
Join now for unlimited access
Try first month for just £1 / $1 / €1