Fabian Cancellara's lawyers demand book that alleges motor doping be withdrawn from sale
Phil Gaimon's book 'Draft Animals' claimed that Fabian Cancellara probably had a hidden electric motor in his bike during 2010 Classics wins – now Cancellara wants an apology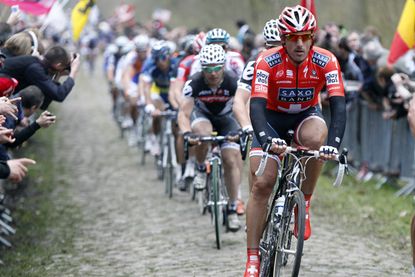 (Image credit: Yuzuru Sunada)
Lawyers acting on behalf of Fabian Cancellara have requested that Phil Gaimon's book Draft Animals be removed from sale due its allegation that Cancellara used an electric motor to win high-profile races.
Cancellara's manager Armin Meier stated on Monday that they also want American former pro Gaimon to issue an apology.
"Our lawyers demand from the American publishing house Penguin Random House that the sale of the book is stopped immediately and that writer Phil Gaimon apologises," Meier said, reports Belgian newspaper Het Nieuwsblad.
>>> 'It's impossible that a motor was hidden': Fabian Cancellara's former mechanic rubbishes motor doping claims
Gaimon's book charts his experience chasing a professional contract and then life as a pro rider.
Writing about YouTube footage of Cancellara's 2010 wins in the Tour of Flanders and Paris-Roubaix, Gaimon said in the book: "When you watch the footage, his accelerations don't look natural at all, like he's having trouble staying on the top of the pedals. That f****r probably did have a motor."
Now retired, Swiss time trial and Classics specialist Cancellara was riding for the Saxo Bank team during the 2010 season, and his mechanic at the time, Rune Kristensen, said: "Had there been a motor stored in a bike, I would have discovered it. It would not be possible to avoid it.
"Fabian's bikes were handled like all other bikes, so it's impossible that something could be hidden."
>>> Fabian Cancellara motor doping claims could be investigated by UCI
The sport's governing body, the Union Cycliste Internationale (UCI), has taken Gaimon's claims seriously and has said that if there is enough evidence it will launch an investigation.
A UCI spokesperson told Cycling Weekly on Friday, November 10, that the organisation was "not ruling out the possibility of investigating, especially if new information was made available".
Gaimon has played down the allegation, saying that they have been taken out of context of the chapter in his book.
"I might as well say something before more words get put in my mouth," Gaimon wrote on Twitter. "In Draft Animals I repeated a rumor that's well-documented and many years old, and I presented it as such. I stand by my opinion, but it's exactly that."
"Put a gun to my head and that's what I believe, so I'd be a liar if I left it out of the book, but I have no revelations or proof. Ironically, the context in the book is dismissing conspiracy theories about motors today as clickbait."
Thank you for reading 20 articles this month* Join now for unlimited access
Enjoy your first month for just £1 / $1 / €1
*Read 5 free articles per month without a subscription
Join now for unlimited access
Try first month for just £1 / $1 / €1