'It's impossible that a motor was hidden': Fabian Cancellara's former mechanic rubbishes motor doping claims
Former Team Saxo Bank mechanic dismisses claims that Swiss rider cheated to win Tour of Flanders and Paris-Roubaix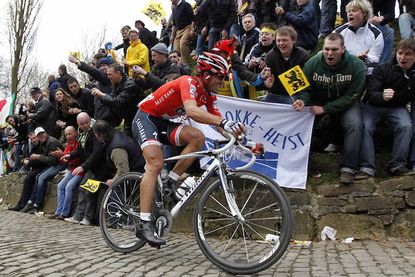 (Image credit: Yuzuru Sunada)
A former Team Saxo Bank mechanic has dismissed claims that Fabian Cancellara used a hidden motor to win the Tour of Flanders and Paris-Roubaix in 2010 made by retired American rider Phil Gaimon
Writing in his new book Gaimon says: "When you watch the footage, his accelerations don't look natural at all, like he's having trouble staying on the top of the pedals."
Cancellara has not yet responded to Gaimon's claims, but has dismissed similar allegations in the past, and has now been defended by a former team mechanic.
>>> Amateur motor doping case: 'It's pathetic. All this to win three sausages and a packet of crisps'
Rune Kristensen, who now works for Quick-Step Floors but was a mechanic at Saxo Bank when Cancellara won the Flanders/Roubaix double in 2010, says that there was no way that Cancellara could have hidden a motor in his bike during those two races.
"In 2010, I was a mechanic at the two races with Cancellara's permanent mechanic, Roger Theel, and we jointly assembled all the team's bikes for spring Classics," Kristensen told Danish website Ekstrabladet.
"Had there been a motor stored in a bike, I would have discovered it. It would not be possible to avoid it. Fabian's bikes were handled like all other bikes, so it's impossible that something could be hidden."
Watch: What's it like to ride a motorised bike?
On Friday, in a presumably unrelated move, the UCI announced the appointment of former professional Jean-Christophe Péraud as its Manager of Equipment and the Fight against technological fraud. The sport's governing body also confirmed that it was "not ruling out" investigating Gaimon's claims against Cancellara.
However Kristensen insisted that if Cancellara had been using a hidden motor, then it would have been discovered by team mechanics at the time.
"Fabian's bikes were always locked in the trucks along with the other bikes after a race," Kristensen continued. "Had there been a motor, the bike would probably have been tucked away in a hotel room.
"If there was a motor, then would a mechanic have been allowed to wash the bike after a run? We all did that. I simply do not think it's possible to cheat with an electric motor without being discovered."
>>> UCI testing could be missing hidden motors in bikes, report suggests
Although there has only been one case of a professional rider being caught using a motor in a bike (Belgian rider Femke Van den Driessche was found to have a hidden motor in her spare bike in the pits at the Under-23 cyclocross World Championships in 2016) there have been two recent cases in amateur races.
Newly-elected UCI president David Lappartient has also pledged to step up the fight against so-called mechanical doping, with the appointment of Péraud one of his first steps in this direction.
Thank you for reading 20 articles this month* Join now for unlimited access
Enjoy your first month for just £1 / $1 / €1
*Read 5 free articles per month without a subscription
Join now for unlimited access
Try first month for just £1 / $1 / €1