UCI testing could be missing hidden motors in bikes, report suggests
Joint report suggests ineffectiveness of current testing method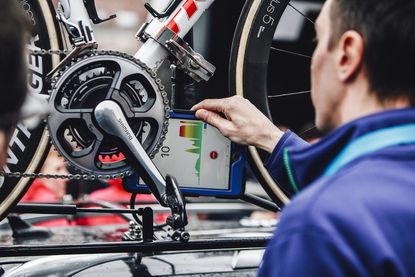 A testing procedure used by the UCI to detect motors in bikes could fail to detect some types of motors, a report has suggested
The joint investigation by France 2, ARD, and Il Corriere della Sera tested the effectiveness of the UCI's current process for detecting hidden motors, using an iPad adapted with magnets that the governing body says detects changes in magnetic flux density which would indicate the presence of a motor.
>>> What is it really like to ride a bike with a hidden motor? (video)
Travelling to the Fraunhofer Institute in Germany, the report found that although this test was effective at detect older motors hidden in the seat tube of bikes, it could not detect what was described as the "latest generation" of hidden motors.
This latest motor technology uses electromagnets hidden in the rear wheel, reportedly costing €20,000 per wheel, and could not be detected by the UCI iPad, with the only positives being given by the metallic spokes and cassette.
Watch: How the UCI tests for hidden motors
The report also reveals where the UCI sources the technology for its detection system: a company called Endoscope-i in Birmingham which specialises in medical imagery equipment but which has no full time employees and whose first large contract came from the UCI.
Only one rider has been caught using a hidden motor in a professional race, Belgian cyclocross rider Femke van den Driessche who was caught using the UCI's current testing method at the 2016 Cyclocross World Championships.
>>> Italian rider accused of using a motor says he couldn't have bike checked as he 'had to go to a wedding'
In amateur racing the Italian national federation recently caught a rider with a hidden motor using thermal imaging camera, a method which has also been used by the UCI using commissaires on the back of motorbikes.
Motors can also be detected using x-ray, a method which has been used in the past by the UCI, and has been suggested as an possible additional form of detection by David Lappartient, who is challenging Brian Cookson for the UCI presidency.
In response to the report, the UCI did not did not directly address the issue of its testing being unable to detect electromagnetic motors in wheels, instead insisting that its current magnetic resistance scanning method "has proved to be highly effective oth in tests and in actual use".
The UCI said that "it is clear that the people using our device in Sunday's Stade 2 report had no training" and that it "continues to makes use of alternative methods in combination with magnetic resistance scanners to ensure a varied testing protocol".
Thank you for reading 20 articles this month* Join now for unlimited access
Enjoy your first month for just £1 / $1 / €1
*Read 5 free articles per month without a subscription
Join now for unlimited access
Try first month for just £1 / $1 / €1