53-year-old Italian cyclist 'caught with motor in bike' at amateur race
Italian media reports that an amateur rider was caught with an electric motor concealed within his frame at an event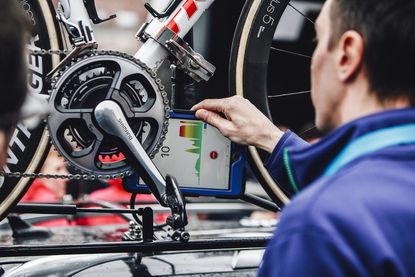 An Italian amateur rider has reportedly been caught at an event with an electric motor concealed within his bicycle's frame.
The 53-year-old was entered in a masters category at the event in Bedizzole, reported Italian website Tuttobici on Sunday.
The presence of the device was detected using a thermal scanner that highlights areas of high temperature in a frame – which can be a sign of a hidden motor, as they generate heat.
According to Tuttobici, the rider was invited to have his bike disassembled in order to confirm the presence of a motor or not, but he declined and left the race.
>>> 'There has been motorised doping in the Tour de France': US TV investigation
Similar checks for hidden motors are now routinely carried out at professional level.
So far there has been only one previous reported incident of a rider being caught with a concealed motor in a top-level race, that of Belgian under-23 cyclo-cross rider Femke Van den Driessche.
Van den Driessche's bike was discovered to contain a hidden motor at the 2016 UCI cyclo-cross World Championships. She was subsequently suspended by the UCI for six years and handed a £14,000 fine.
Prior to that, there were persistent rumours for several years that 'motor doping' was taking place in pro-level races, but without firm evidence. Van den Driessche's case not only confirmed that it was possible to conceal an electric motor in a frame without any visible signs, but that they were actually being used in races.
Thank you for reading 5 articles this month* Join now for unlimited access
Enjoy your first month for just £1 / $1 / €1
*Read 5 free articles per month without a subscription
Join now for unlimited access
Try first month for just £1 / $1 / €1