'There has been motorised doping in the Tour de France': US TV investigation
US television programme 60 Minutes broadcasts findings of its investigation into hidden motors and professional cycling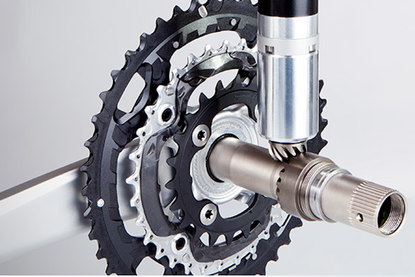 US television programme 60 Minutes investigated motorised cheating in professional cycling in a show aired last night, claiming that motorised bikes have been used in the Tour de France.
60 Minutes journalist Bill Whitaker interviewed motorised bike pioneer Istvan 'Stefano' Varjas, three-time Tour de France winner Greg LeMond and his wife Kathy, and others. The show provided no direct evidence of cheating by cyclists.
"Stefano said he told the French police that just before the 2015 Tour de France he again sold motorised bikes to an unknown client through a middleman," Whitaker said. "He said he was directed to deliver the bikes to a locked storage room in the town of Beaulieu Sur Mer, France."
The programme indicated that the wheels were motorised. Varjas said "enhanced wheels" weigh about 800 grams more than normal wheels. The programme claims that Team Sky's bicycles were heavier than all others in the 2015 Tour.
>>> French Government reject motion to make motor doping a criminal offence
"In the 2015 Tour de France, bikes in the peloton were weighed before one of the time trial stages. French authorities told us the British Team Sky was the only team with bikes heavier than the rest – each bike weighed about 800 grams more," Whitaker continued.
"A spokesman for Team Sky said that during a time trial stage bikes might be heavier to allow for better aerodynamic performance. He said the team has never used mechanical assistance and that the bikes were checked and cleared by the sports governing body."
When contacted by Cycling Weekly for this article, a Team Sky spokesperson said: "It wasn't mentioned in the [60 Minutes] report, but all of Team Sky's bikes were subject to an unannounced post-stage mechanical check at the end of the stage. This is all recorded in the communique released on the day.
"There are significant variances in the weights of bikes caused by a range of different factors."
The 2015 Tour, won by Chris Froome, began with a time trial in Utrecht and included another one, a team time trial, in Plumelec. Rohan Dennis (BMC Racing) won the first and his BMC team took the second by one second over Team Sky.
"To Greg LeMond the weight difference should have set off alarm bells," added Whitaker. "In this case, sources told us, the sport's governing body would not allow French investigators to remove the Team Sky wheels and weigh them separately to determine if the wheels were enhanced."
Jean-Pierre Verdy, the former testing director for the French Anti-Doping Agency, said that riders have ridden motorised bikes in the Tour.
>>> British Cycling checked 1,310 bikes for hidden motors in 2016
"It's been the last three to four years when I was told about the use of the motors," Verdy said. "And in 2014, they told me there are motors. And they told me, there's a problem. By 2015, everyone was complaining and I said, something's got to be done."
Through insiders in the peloton, Verdy explained that he learned 12 riders used hidden motors in their bikes in the 2015 Tour.
The UCI carried out various tests in recent years. Helped by the Italian authorities, 37 bicycles were stripped and examined after the 2015 Milan-San Remo.
Beginning in 2016, the UCI started using tablets to scan large number of bikes before races. Others argue that different methods, such as thermal imaging cameras, should be used.
Hungarian engineer Varjas said that hidden motors existed since 1998, when he first developed a version suitable enough to go unnoticed.
Through a friend, Varjas made an exclusive deal with a professional cyclist.
"Stefano swears he has no idea who it was. He gave us this bank record that shows that he had about $2 million at the time," Whitaker said.
>>> UCI blocked police checks for hidden motors at Tour de France, claims expert
"We also know that he spent time in jail for not paying a substantial tax bill in Hungary. He said whoever paid him all that money wanted an exclusive deal—he couldn't work on the motor, sell it or talk about it for 10 years."
"For 10 years. $2 million," said Varjas. "Can you refuse it? I don't think."
Lance Armstrong won the Tour from 1999 through 2005, titles that were later stripped when investigators proved he doped. In a radio interview with Ger Gilroy in October, Armstrong said that he never cheated with a motor.
"In 1999, no one even knew you could put motor [in a bike]. Are you out of your mind?" Armstrong said.
60 Minutes asked and Armstrong denied ever using a motor. He declined an interview.
His former team-mate Tyler Hamilton, who admitted to doping and wrote a book explaining the details of their system, said he was unaware of hidden motors in that time period.
The show bought a Trek US Postal Service bike from that period and had Varjas install a motor. They paid $12,000 for parts and labour.
Hamilton tried it and said, "I could see how teams are doing it. Yeah. I could." He said the power boost over 20 minutes on a climb would be a "game changer."
So far, the UCI has only caught one motorised cheat among the peloton. Last year in the cyclocross World Championships, it busted 19-year-old Belgian Femke Van den Driessche. She was banned from competition for six years.
Thank you for reading 20 articles this month* Join now for unlimited access
Enjoy your first month for just £1 / $1 / €1
*Read 5 free articles per month without a subscription
Join now for unlimited access
Try first month for just £1 / $1 / €1