Your favourite cycling cafés, and what you order there
A selection of your favourite British cycling-friendly cafés, as nominated by Cycling Weekly readers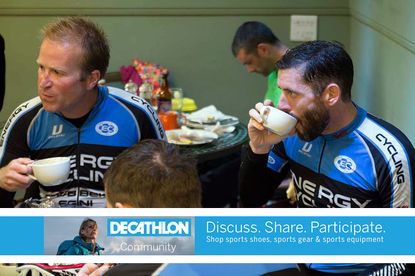 The growth of cycling in the UK has also created the need for dedicated cycling cafés, with many cropping up all over the nation.
Every long ride should include at least one café stop, and now there's a high chance that there's a bike-friendly watering hole near you.
We recently asked Cycling Weekly readers what and where their favourite cycling café is, and what they would order there. Here are a selection of answers, brought to you in association with Decathlon (opens in new tab).
>>> Seven of the best cyclists' café stop coffees
Is your favourite cycling café listed? If not, tell us in the comments section below.
Bike Beans in Ashtead, Surrey. Mug of tea and a bacon torpedo roll with ketchup. So good we had them and their Oreo brownies for our wedding reception! Not just cycling catered for.
Hannah Evans
Aldeli in Alderley Edge. Everything on the menu is delicious but my personal fave is freshly-baked scones with cream and jam. They actively support cycling, from putting in bike stands to putting on cycling films, to sponsoring our amazing Cheshire Mavericks Cycling Club.
Jo Soliva
Café Velo in Beverley. Large projector with constant cycling films on, cycling related films nights and supper clubs, wall racks to hang your carbon beauty or your town hack, cycling paraphernalia from over the years, run by an ex-pro/semi-pro cyclist.
Philip Savage
The Old Post Office, Chapel of Garioch, Aberdeenshire. Friendly service, great coffee and superb cake. Plus it is uphill whichever way you approach it, so the coffee and cake is always well deserved.
Aidan Mulhall
The Blue Egg just outside of Great Bardfield, Essex – a great cycling stop and a firm favourite for a number of pro riders. Alex Dowsett is a regular, so it's great to look at their bikes! And good food, so much to choose from.
Jacqui Stone
Look Mum No Hands! on Old Street, London. For breakfast the grilled mackerel, in the day definitely a coffee with one of their house blends with their banana cake, in the evening one of their craft beers and maybe a halloumi wrap.
Gemma Mercurio
Broomwagon Velo Café in Retford and it's got to be one of their Bacon sandwiches with brown sauce and a filter coffee. Perfect mid-ride snack.
Jennifer Boyle
Harbour Lights tearoom on the pier side at Lossiemouth marina in Moray. Great service and always a warm, friendly welcome. I usually have a toasted teacake with coffee.
Bill Murray
Capheaton café in Northumberland, cheese savoury and a slice of hummingbird cake is the usual order. I still don't know what is in the cake but it gets my fat backside over the Ryals every time!
Mark Paterson
Eureka Cyclists Café at Two Mills, near Chester, Cheshire. Normal order is either a vanilla latte or a cappuccino and one of their brilliant homemade cakes!
Brandon Ridgway
Collapsed in a garage forecourt with an emergency Mars Bar and an energy drink.
Graham Wyatt
Mecycle café, Ainsdale, Southport. Supports Autism charities, best coffee I've ever had, great service, bikes and kit on sale too.
Pete Kenrick
Thank you for reading 10 articles this month* Join now for unlimited access
Enjoy your first month for just £1 / $1 / €1
*Read 5 free articles per month without a subscription
Join now for unlimited access
Try first month for just £1 / $1 / €1