First blood to Rapha in Tour Series round one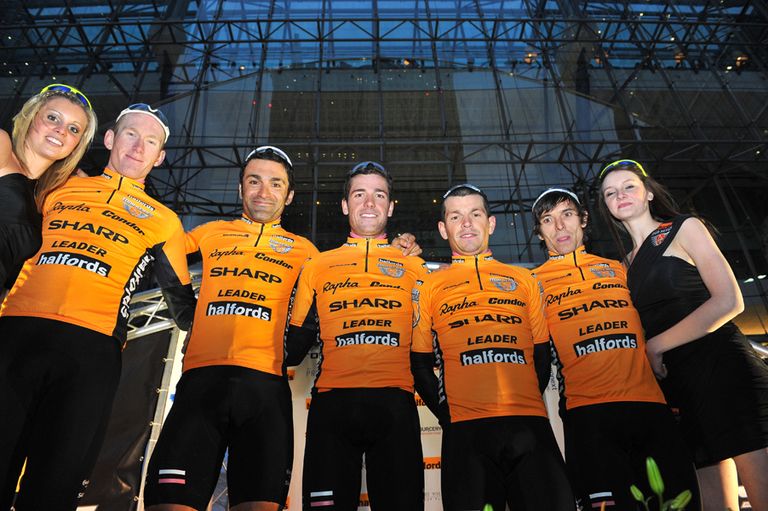 Rapha Condor Sharp kick-started their campaign for this year's Tour Series crown last night with a strong showing under the skyscrapers of London's Canary Wharf.
Rapha's men in black came out on top after a frantic hour's racing; Tony Gibb may have been the individual winner, but Rapha placed third (Dean Downing), fifth (Dean Windsor) and sixth (Graham Briggs) to land them the series lead.
"We were fantastic as a unit and we really learnt from our mistakes from last year," Downing told Cycling Weekly.
"It's nice to win individually but winning like that last year meant we messed up winning as a team so we've learnt from our mistakes. We had a fantastic lead out from Zak Dempster who did a full, one-lap lead-out.
"I was in third with a lap to go, looked back and there was just one line of 40 riders and Zak just did a fantastic job".
There was a buzzing atmosphere in Canary Wharf to greet the start of this year's Series, but the crowds thinned as the wind picked up - exacerbated by funnelling created by the skyscrapers - and the temperature plummeted.
The racing more than made up for it, however, with some tactically astute - and fast - racing on show.
Pendragon's Yanto Barker made a valiant solo effort to break away in the latter stages with another escape group forming soon afterwards.
Most of the teams were represented in the break, but heading into the final laps, cat and mouse tactics prevailed and Rapha was key in shutting it down, with Dempster playing a key role.
Tony Gibb (Cycle Premier) may have been the individual winner on the night, but a poor showing from his team in the final sprint meant they came away in a lowly seventh.
Gibb, however, was upbeat. "This is the sole goal of the year and when I saw this circuit, I thought if ever there's an opportunity for me to win one of these, this is it. It suited me down to the ground.
"I knew when I opened up the sprint that it would take someone very special to come past and Malcolm [Elliott] almost did. Some of the young lads on the team had a hard night, but Simon [Wilson] did sterling work for me".
You can watch all the action from Canary Wharf tonight (Wednesday) on ITV4 at 7pm. Durham plays host to round two of the series on May 27 (Thursday).
Round one - Canary Wharf - Team Results

1. Rapha Condor Sharp
2. Endura
3. Motorpoint Marshalls Pasta
4. Team Raleigh
5. Pendragon Le Col Colnago
6. Sigma Sport Specialized
7. CyclePremier.com Metaltek
8. Kuota Road.cc
9. Corley Cycles
10. Team Ireland
Individual results

1. Tony Gibb (CyclePremier.com Metaltek)
2. Malcolm Elliott (Motorpoint Marshalls Pasta)
3. Dean Downing (Rapha Condor Sharp)
Tour Series standings after round one

1. Rapha Condor Sharp    10pts
2. Endura    9pts
3. Motorpoint Marshalls Pasta    8pts
4. Team Raleigh    7pts
5. Pendragon Le Col Colnago    6pts
6. Sigma Sport Specialized    5pts
7. CyclePremier.com Metaltek    4pts
8. Kuota Road.cc    3pts
9. Corley Cycles    2pts
10. Team Ireland    1pt
Sprints competition standings

1. Liam Holohan (Team Raleigh)    10pts
2. Tony Gibb (CyclePremier.com Metaltek)     9pts
3. Graham Briggs (Rapha Condor Sharp)      9pts


All smiles from Rapha who take series lead to Durham for round two


Tony Gibb was elated with his win but Cycle Premier were only 7th on the night