Former British national champion Sharon Laws reveals she has cancer
Former national road race champion, Sharon Laws has announced she is suffering from cervical cancer just weeks after retiring from professional cycling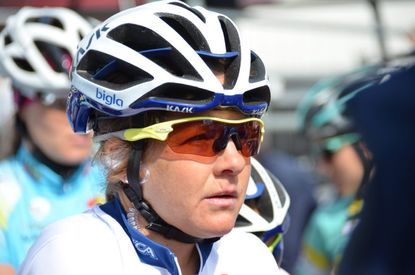 Former British road and time trial champion, Sharon Laws has announced she is suffering from cancer. Laws, who retired form professional cycling in August, has been diagnosed with cancer of the cervix and has described her illness as "treatable but not curable."
After riding the Prudential RideLondon GP for her Podium Ambition team in July, Laws decided to have some lumps in her neck examined and it was then the cancer was discovered.
"I assumed these were just due to a series of colds I seemed to have had continually during the season," the 42-year old-explained in a statement. "I was shocked to be told they contained secondary cancer tumours."
Since then she has undergone extensive tests to locate the primary tumour and last week began a course of chemotherapy.
"Obviously I am trying to come to terms with what is happening," the statement continued. "Up until starting the chemotherapy I could still ride my bike and, apart from recovering from the operations I had recently, felt normal."
At the end of 2015 Laws decided to retire from professional sport, but was persuaded to continue, signing with Podium Ambition for this season. The team allowed her to mix her passion for mountain biking with road commitments. She began the year in South Africa at the Cape Epic and finished it winning the British mountain bike marathon championships in Wales. Her third British champion's jersey.
Laws turned professional in 2008 for the Halfords Bikehut team, aged 33-years-old, and won the national time trial championship that year. Also in 2008 she represented Great Britain in the Olympic road race in Beijing, helping Nicole Cooke to claim the gold medal, something she described as a highlight of her career.
With a string of race podiums and victory at the British road race championships, it was widely expected she would once again be selected to compete in the London Olympics, but she was controversially omitted from the team.
In retirement Laws had hoped to return to the environmental consultancy work she had done before professional cycling, mixing that with bike guiding and voluntary work. "These will now have to be put on hold," she explained.
"As a professional cyclist I've had my share of setbacks, in particular the horrific crash I had in 2013, which put me in hospital for two weeks with serious injuries. I have come back each time. I hope that these experiences and my life as a professional athlete have prepared me for what will be my biggest challenge so far."
Thank you for reading 20 articles this month* Join now for unlimited access
Enjoy your first month for just £1 / $1 / €1
*Read 5 free articles per month without a subscription
Join now for unlimited access
Try first month for just £1 / $1 / €1