Four guaranteed-to-excite hill-climbs to watch this weekend
The hill-climb season is approaching its crux, and this weekend (October 10/11) there is a multitude of events for spectators to watch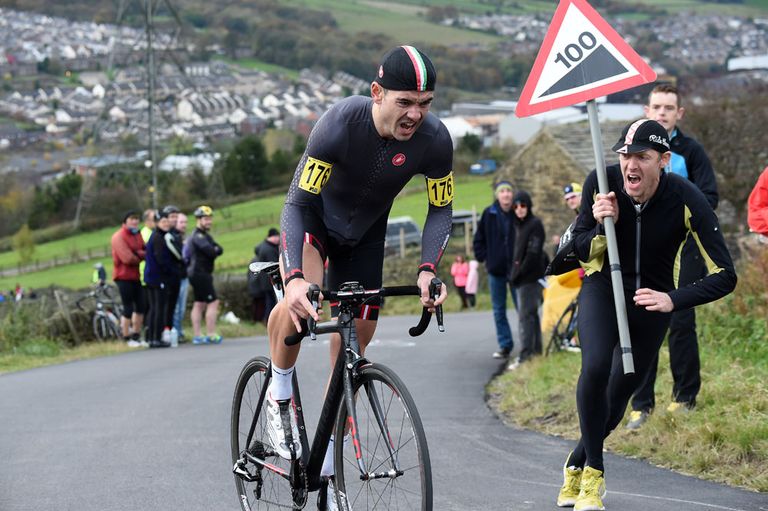 (Image credit: Andy Jones)
The build-up to the RTTC National Hill-Climb Championships continues apace this weekend (October 10/11) with a dry-run of the Nationals course.
The Jackson Bridge course, near Holmfirth, is hosting the Nationals on October 25 for the first time in 21 years, when Jeff Wright beat defending champion Stuart Dangerfield, who won five National titles in the 1990s.
Huddersfield Star Wheelers have their club event on the course tomorrow (Saturday, 11am start), with the favourites for this year's Championships in attendance.
Dan Evans (Team Elite/Cannondale UK), the current incumbent of the national stripes, will resume his battle with former champion Tejvan Pettinger (Sri Chimnoy). The pair have raced against each other for much of the autumn, with Evans – aside from defeat on Porlock Hill – narrowly just beating Pettinger on all occasions.
>>> 'My power output was so high my vision went blurry and my eyes felt funny'
Jim Henderson (Southport CC), a five-time winner, is back racing hill-climbs and he is targeting a podium finish in two weeks time. He is on the startlist for tomorrow's race, as well as 2008 winner Matt Clinton (Mike Vaughan Cycles). Last year's third-placed finisher Adam Kenway (SportGrub Kuota Cycling Team) will also take to the start.
The winners of last weekend's Monsal Hill-Climb, Joe Clark (EnvelopeMaster) and Lou Bates (Carnac-PlanetX) are set to ride the one-mile course, too.
How much slower does added weight make you?
Staying in the north-west for the Rake hill-climb on Sunday (noon start), as promoted by the Lancashire Road Club, is Evans and Pettinger. The Rake is one of the country's most revered hill-climbs and has been used as the National course three times in the past 17 years.
Sunday, though, is reserved for the famous Cat and Bec double-header. Catford CC's climb up York's Hill begins at 9.30am, before riders and spectators ride (or drive) ten miles to compete in the Bec CC Hill-Climb (2pm start) up White Lane, Oxted.
Maryka Sennema (Paceline-RT), the defending women's champion who has had a strong start to her climbing season, is the headline name on the Bec startlist. Germaine Burton (100% ME) is one of the favourites for the men's title.
It is the event's 60th anniversary and has attracted famous riders from years gone by, including Bradley Wiggins, but it faces an uncertain future with new road closure restrictions coming into force from this year.