Dan Evans and Maryka Sennema win Hill Climb National Championships
Welshman Dan Evans takes British hill climb title as Maryka Sennema defends women's crown in South Yorkshire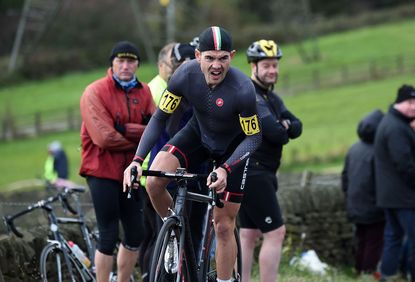 (Image credit: Andy Jones)
Dan Evans won the National Championship Hill Climb in Stocksbridge, South Yorkshire, on Sunday, rounding off a fantastic season for the Welshman.
The 33-year-old Team Elite rider stormed up the Pea Royd Lane course in a time of 3:24.2 to beat Matt Clinton (Mike Vaughan Cycles) by 2.3 seconds, while Team Zenith's Adam Kenway took third spot with a time of 3:28.1.
Evans said after the event: "I'm really happy to have won it and to have ended the season like this. It's been my goal for a couple of years.
"I've been in really good form and I'd already beaten Tejvan twice this season in the Horseshoe Pass and Jackson Bridge hill climbs.
"I knew this distance suited me, anything between three and eight minutes is a good distance for me. I was sixth last year and I've won the Welsh Championship for the last four years so it's great to add this too.
"I've had a great season and I've tried to do a little bit of everything with mountain biking, time trials and hill climbs but this was the main goal.
"About halfway up people were telling me that I was fastest and for a moment I thought I might have gone too hard. Coming out of the last bend and going into the finish was really just a case of grimacing and getting on with it."
Sri Chinmoy's Tejvan Pettinger, the defending champion from 2013, was just off the pace of the top three, finishing fourth with a time of 3:32.1.
The 37-year-old said: "I thought I rode a good race, it was all a bit of a blur really. This distance isn't really my forte and I think I did as well as I could. I couldn't have won it against the guys who finished above me with their times."
In the women's event, Maryka Sennema made a successful defence of her title with a time of 4:35.3. After winning the championship last year, the 40-year-old Kingston Wheeler still felt she had something to prove and did so in convincing fashion.
Lou Collins of Beeston RC was second with a time of 4:42.1 and Lynn Hamel of Trainsharp RT was third with a time of 4:42.6.
Sennema said: "It's good to defend my title because it proves that it wasn't just a fluke last year. Last year, nobody knew who I was but I won it and yet I still felt the underdog this year because everyone seemed to be talking about who might win it but I never heard myself mentioned.
"So, to come out here and win, and win convincingly, was important to me. It's also great to win the last event of the season. I came to the course a couple of times in the week to get my head around it.
"I'm going to have a rest now, go back to Canada with my family. I'll relax for a while but then I'll be looking at new goals and ideas for next season."
Harry Luxton (RuTrainingToday CC) came ninth overall to win the junior category. The 17-year-old completed in a time of 3:40.6.
Results
British Hill Climb National Championships 2014
1. Dan Evans (Team Elite/Paul Bethall Electrical) in 3-24.2
2. Matt Clinton (Mike Vaughan Cycles) in 3-26.5
3. Adam Kenway (Team Zenith-www.buzzcycles.co.uk) in 3-28.1
4. Tejvan Pettinger (Sri Chinmoy Cycling Team) in 3-32.1
5. Joseph Clark (Team Zenith-www.buzzcycles.co.uk) in 3-35.3
6. Edmund Bradbury (Cambridge University RT) in 3-36.5
7. James Lowden (Lewes Wanderers CC) in 3-37.5
8. Lee Baldwin (Champion System/ClubRoost/Maxgear) in 3-40.0
9. Harry Luxton (RuTrainingToday CC) in 3-40.6 (junior winner)
10. Stuart Marshall (Team Zenith-www.buzzcycles.co.uk) in 3-41.1
Women
1. Maryka Sennema (Kingston Wheelers) in 4-35.3
2. Lou Collins (Beeston RC) in 4-42.1
3. Lynn Hamel (Trainsharp RT) in 4-42.6
4. Nicola Soden (GB Cycles) in 4-43.9
5. Josephine Gilbert (VC St Raphael) in 4-48.6
Images from the 2014 British Hill Climb National Championships held on Pea Royd Lane, South Yorkshire. Photos by Andy Jones
Images from Sunday's Bec CC Hill Climb in Surrey. Photos by Dave Hayward
British hill climb round-up (Oct 11-12): News and results from around the UK
Thank you for reading 10 articles this month* Join now for unlimited access
Enjoy your first month for just £1 / $1 / €1
*Read 5 free articles per month without a subscription
Join now for unlimited access
Try first month for just £1 / $1 / €1
Snowdon Sports is a long-established independent sports news agency, which supplies editorial to a range of media outlets - such as Cycling Weekly - as well as sports governing bodies. Snowdon Sports often covers results at Cycling Time Trials events in the UK and has long been a source of information and imagery to Cycling Weekly.