Monsal Hill-Climb 2015 in pictures
Joe Clark and Lou Bates takes the honours in the 2015 edition of the classic Monsal Hill-Climb in Derbyshire - Photos by Andy Jones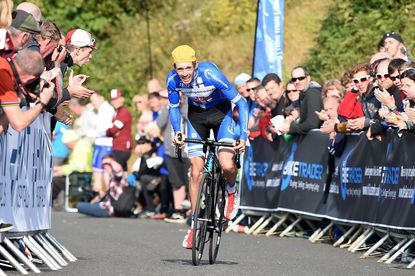 (Image credit: Andy Jones)
Joe Clark (Team Envelopemaster) won the 85th edition of the Monsal Hill-Climb in Derbyshire on Sunday, edging out Adam Kenway (SportGrub Kuota Cycling Team) by just two tenths of a second.
Former Monsal champion Jack Pullar (Velosure Starley Primal Pro Cycling) completed the podium in third place, four seconds behind Kenway.
Lou Bates (Carnac Planet X) prevailed in the women's category, coming home two seconds quicker than second-placed Jessie Walker (Servetto Footon), last year's winner. Dame Sarah Storey (Pearl Izumi Sports Tours International) placed third in a field of 24 women - an event record.
>>> Six of the best British hill-climb events this autumn
Robert Gray (HMT Academy with JLT Condor) claimed the junior crown, and placed fifth overall to boot. Chris Myhill (Peak Road Club) won the veterans category, with Jim Brown (Holmfirth CC) winning the school boys category, and Becky Grigson (Sport City) coming first in the school girls.
None of the full start list of riders came close to retired pro Malcolm Elliott's 1981 course record of 1:14.2. Elliott was on hand to present the prizes after the finish.
Results
Monsal Hill-Climb 2015
Men
1. Joe Clark (Team Envelopemaster) in 1:20.1
2. Adam Kenway (SportGrub Kuota Cycling Team) 1:20.3
3. Jack Pullar (Velosure Starley Primal Pro Cycling) 1:24.2
4. Russell Downing (Cult Energy Pro Cycling) 1:24.6
5. Robert Gray (HMT Academy with JLT Condor) 1:26.9
6. Andy Nichols (Langsett Cycles RT) 1:27.0
7. William Bourne (Clay Cross RT) 1:27.5
8. Daniel Featherstone (Andy Moore Autocentres Racing) 1:27.7
9. John Johnston (Matlock CC) 1:28.2
10. Peter Cocker (Pedal Pushers) 1:29.9
Women
1. Lou Bates (Carnac Planet X) in 1:55.1
2. Jessie Walker (Servetto Footon) 1:57.1
3. Dame Sarah Storey (Pearl Izumi Sports Tours International) 1:59.1
4. Diane Lee (Mule Bar Girls Sigma Sport) 1:59.7
5. Emilie Verroken (Langsett Cycles RT) 2:00.2
6. Elizabeth Stedman (Fusion RT Gear Club) 2:03.6
7. Nicola Soden (Stocksbridge CC) 2:06.6
8. Julia Van Campen (Sheffrec CC) 2:08.5
9. Helen Eborall (Born to Bike - Bridgtown Cycles) 2:11.9
10. Charlotte Thompson (Velo Club St Raphael) 2:18.0
Thank you for reading 10 articles this month* Join now for unlimited access
Enjoy your first month for just £1 / $1 / €1
*Read 5 free articles per month without a subscription
Join now for unlimited access
Try first month for just £1 / $1 / €1