GOLD FOR NICOLE COOKE IN WOMEN'S ROAD RACE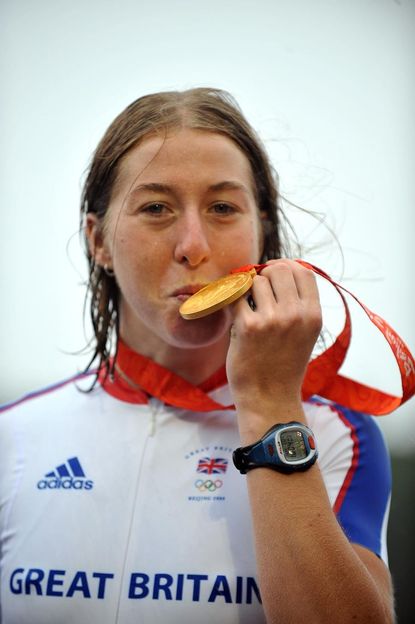 Nicole Cooke won Great Britain?s first gold medal of the Olympic Games ? but she put her fans through the full range of emotions in the final kilometre of a race run in torrential rain.
The 25-year-old Welsh rider rode a text book race but she nearly let victory slip from her grasp right at the end and had to launch a superhuman effort to close a gap she let open on the final descent.
Cooke waited until she had to make her move, riding very conservatively compared to her usual all-out attacking style. It proved to be the perfect strategy.
In the end her powerful sprint from a long way out ? almost 250 metres from the line ? was too much for Sweden?s Emma Johansson and Italy?s Tatiana Guderzo.
Cooke was one of four riders to react to Guderzo?s attack, which came with 13 kilometres to go. Johannson, Christiane Soeder of Austria and Linda Melanie Villumsen Serup of Denmark were the others to get across. Crucially, the Germans missed it and so did Marianne Vos of the Netherlands.
Careful to do enough to keep the break away but not do too much to dent her chances on the uphill finish, Cooke was alert and tactically astute as the break gained 15 seconds.
But the advantage was never any more than that and for a moment it looked as if the chase, led by Judith Arndt and Trixi Worrack of Germany, might be successful.
Then, drama. As the riders swept downhill on the run to the bottom of the finishing hill, the television director switched to a fixed camera to wait for them to sweep round the right-hand corner.
Four of them appeared, but where was Cooke?
A tantalising couple of seconds passed before she came into view, sprinting out of the saddle. Whether she deliberately took it carefully on the descent to avoid a crash in the wet or whether she had a slight mishap she will no doubt clear up in her post-race press conference.
Whatever happened, she had to dig deep to get back on. It took a few hundred metres for her to close up to the back of the group. Immediately the fear was that would have compromised her sprint.
With 250 metres to go she opened it up. Although the finishing straight suited her perfectly, it was still a long way to go.
It seemed to take an eternity, but she got clear and held off a spirited surge from Johansson and Guderzo, who took silver and bronze.
At the finish she embraced her team-mates Emma Pooley and Sharon Laws, as well as Julian Winn, the team manager, and British Cycling's performance director Dave Brailsford.
So Britain are off the mark and a cyclist has delivered the first medal. A gold. The mood will be buoyant as the track riders put the finishing touches to their preparations.
Earlier in the race, Pooley had played the role of perfect team mate, attacking as they started the final lap, bridging across to Russia?s Natalia Boyarskaya and taking Guderzo with her.
The other British rider, Laws, was also in the thick of the action the first time up the climb, although she had crashed just before the race reached the finishing circuit. Laws crashed for a second time on a left-hand bend.
Cooke, fifth in Athens four years ago and so often missing out narrowly in the World Championships, earned the biggest and best result of her career, while the other pre-race favourite, the Dutch rider Vos, took sixth place.
Swipe to scroll horizontally
As the race rolled out from downtown Beijing, reports filtered in to say the weather over at the Great Wall was wet. As it turned out, the weather was appalling, with heavy rain meaning lots of surface water.
The first 70 kilometres were tame, with nothing of any consequence happening at all until Germany?s Hanka Kupfernagel got to the front and started to lift the pace. With 55 kilometres to go, Russia?s Alexandra Burchenkova made the first attack of the race, but it was short-lived.
Britain?s Laws went down in a crash 49 kilometres from the finish when the Korean Sungeun Gu weaved to the left and fell.
But Laws got back to the front and as they hit the climb for the first time, the three British riders were all there in the first six. Laws and Pooley looked comfortable, as did Cooke, who unlike the other two was wearing a Great Britain skinsuit, which had darker blue colours than the regular jersey and shorts.
One of the first to be dropped was Katherine Bates of Australia, who had done work on the flat.
Natalia Boyarskaya of Russia lit the torchpaper with a powerful attack. At one stage she had a gap of more than a minute and a half, despite a moment?s hesitation when the absence of a lead car or motorbike in sight led to confusion over which way she should go.
The bunch got organised and with 34 kilometres to go the gap was down to 45 seconds.
Laws went down again on a left-hand bend, which also saw Canada?s Alexandra Wrubleski hit the deck.
As Boyarskaya went through the finish line with one lap to go her lead was still 45 seconds.
Pooley accelerated at the head of the bunch and got a gap. She was joined by Guderzo of Italy and together they got across to Boyarskaya.
This forced the German pair of Judith Ardnt and Trixi Worrack to chase, while Cooke sat in the wheels. One of the big casualties was defending champion Sara Carrigan of Australia, who was dropped.
As the bunch caught the Pooley trio Kazakhstan?s Zulfiya Zabirova tried to attack but wasn?t allowed to move.
With 13 kilometres to go Guderzo attacked again and forced the bunch to chase.
As the main group reacted, four riders got clear and bridged up to Guderzo. Cooke, Emma Johansson of Sweden, Christiane Soeder of Austria and Linda Melanie Villumsen Serup of Denmark joined the Italian and forged clear by a narrow margin.
With six kilometres to go Soeder tried to go clear by herself, which upset the rhythm of the front group.
The gap was slender, just 14 seconds with five kilometres to go with the German pair again chasing on the front of the main group.
With two kilometres to go it looked likely that the five would get to the bottom of the final climb to contest the medals.
Cooke was in the perfect position throughout the run-in, sitting in second place behind Soeder, but aware of the threat from behind posed by the Italian Guderzo, the Swede Johansson and the Dane Serup.
But Cooke lost contact on the final descent to the foot of the hill and had to work very hard to get back onto the rear of the group.
Inside 250 metres to go Cooke opened up the sprint and held on with a powerful surge to hold off Johansson and Guderzo.
Swipe to scroll horizontally
1 Nicole Cooke (Great Britain) in 3hr 32min 24sec
2 Emma Johansson (Sweden)
3 Tatiana Guderzo (Italy)
4 Christiane Soeder (Austria)
5 Linda Melanie Villumsen Serup (Denmark) all same time
6 Marianne Vos (Netherlands) at 21sec
7 Priska Doppman (Switzerland)
8 Paulina Brzezna (Poland)
9 Edita Pucinskaite (Lithuania)
10 Zulfiya Zabirova (Kazakhstan) all same time
Other British riders
23 Emma Pooley (Great Britain) at 31sec
35 Sharon Laws (Great Britain) at 53sec
Swipe to scroll horizontally
Positive test for cyclist at Olympic Games
Bettini chasing second Olympic gold
Romero poses nude for ad
British quartet eyeing new world record
As Olympics approach two new drugs emerge
Swipe to scroll horizontally
Analysis: women's road race
Gold for Nicole Cooke in Women?s road race
Reaction: It?s a dream to win Gold, says Cooke
Women's Olympic road race picture special
Sanchez gives Spain gold in thrilling men?s road race
Who is Samuel Sanchez?
Tactical analysis: Reading the men?s Olympic road race
British riders suffer in hot and humid Olympic road race
Rebellin misses out on golden birthday
Brailsford confident ahead of women?s road race
Swipe to scroll horizontally
OLYMPIC GAMES 2008: GUIDE
Olympics cycling results>>
Cycling event schedule>>
Great Britain rider profiles>>
Cycling event guide>>
Photo gallery>>
British Olympic cycling medal winners>>
Thank you for reading 10 articles this month* Join now for unlimited access
Enjoy your first month for just £1 / $1 / €1
*Read 5 free articles per month without a subscription
Join now for unlimited access
Try first month for just £1 / $1 / €1
Sports journalist Lionel Birnie has written professionally for Sunday Times, Procycling and of course Cycling Weekly. He is also an author, publisher, and co-founder of The Cycling Podcast. His first experience covering the Tour de France came in 1999, and he has presented The Cycling Podcast with Richard Moore and Daniel Friebe since 2013. He founded Peloton Publishing in 2010 and has ghostwritten and published the autobiography of Sean Kelly, as well as a number of other sports icons.