You can now watch Graeme Obree's Battle Mountain film for free
'Battle Mountain' charts the highs and lows of Graeme Obree's attempt to set a new Human Powered Land Speed Record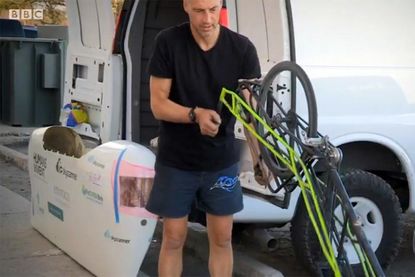 (Image credit: BBC iPlayer)
A film charting Graeme Obree's attempt on the Human Powered Land Speed Record in 2013 is now available to watch on BBC iPlayer.

Battle Mountain follows Obree as he prepares for the record attempt, and includes him devising and constructing 'The Beastie', the human powered vehicle that the former Hour Record holder and pursuit world champion used for the attempt.
After testing, Obree took The Beastie over to the aptly-named Battle Mountain, Nevada, USA to put it through its paces - and come up against teams with vastly bigger budgets and access to high-tech equipment not available to the Scotsman.
>>> Review: 'Battle Mountain: Graeme Obree's story'
Such an attempt put great physical and mental pressure on Obree, and he tackled the attempt with his unique philosophical outlook, ingenuity, humour and gusto.
The hour-long film directed by David Street was shown on BBC Scotland on Tuesday, February 7, and is available on the BBC's iPlayer on-demand service until early March.
Thank you for reading 20 articles this month* Join now for unlimited access
Enjoy your first month for just £1 / $1 / €1
*Read 5 free articles per month without a subscription
Join now for unlimited access
Try first month for just £1 / $1 / €1