Review: 'Battle Mountain: Graeme Obree's story'
David Street's documentary follows Graeme Obree's attempt to set a Human Powered Landspeed Record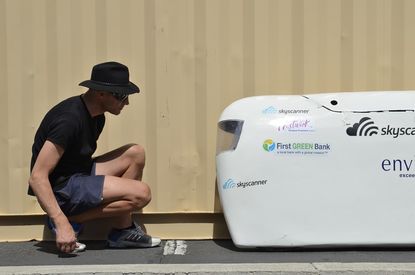 Battle Mountain, the film of Graeme Obree's attempt to set another world record, is a must-see. It is inspiring, funny and frightening.
Director David Street has achieved something that few manage when profiling heroic bids by ambitious cyclists – he's revealed the plain humanity of a vulnerable man.
So it's not a niche movie for aerodynamics anoraks or extreme sports fanatics. It's a film that pretty much everyone will enjoy because it's all about a real person who is both funny ha-ha and funny peculiar and who happens to find freedom by pedalling very fast indeed.
While Obree builds The Beastie human powered vehicle in the kitchen of his Ayrshire flat, he is showing everything about himself. He knows himself better than most of us and isn't worried about revealing his flaws.
The film takes us gently through his switchback life, softening the blows with lingering shots of him cycling through the glorious scenery in Scotland and Nevada. We meet his family, friends and rivals. We hear beautiful music composed by Alun Woodward, formerly of cycling homage band The Delgados.
We worry about the insane machine Obree plans to pedal at 100 mph, horizontal, face down, nose all but touching the front tyre. We stare in disbelief as he struggles to stop it from toppling and not always succeeding. We look away when the dressings are changed on an extraordinary post-operative wound.
The climax is the annual human powered vehicle meeting at Battle Mountain, a Nevada town, which, despite its name, is on a plateau, as is the film for the next 15 minutes. Admittedly, it's difficult for any camera to capture the sheer speed of the HPVs because of the straightness of the road, the bareness of the scenery and the fairing that hides the rider.
Frankly, this is a documentary that has to be seen to be believed. If anyone in Hollywood had written it the script would have been rejected because of the incredible number of ridiculous twists and turns. And nobody could write the jokes that come out of Obree's mouth at the unlikeliest moments.
Even the most cynical will be seduced by the combination of self-deprecation, crazed chutzpah and intuitive engineering skills that Obree displays. It's a liberating film and the unspoken message from the man who set two World Hour Records and won two rainbow jerseys for the 4000m pursuit is "kids, do try this at home."
Battle Mountain: Graham Obree's Story is at cinemas across the UK throughout April and May. See here for dates.
Max Glaskin is an award-winning freelance journalist who tweets about cycling and science as @CyclingScience1 and is the author of Cycling Science (published by Frances Lincoln UK, Chicago University Press USA, and seven other languages)
Thank you for reading 10 articles this month* Join now for unlimited access
Enjoy your first month for just £1 / $1 / €1
*Read 5 free articles per month without a subscription
Join now for unlimited access
Try first month for just £1 / $1 / €1