The Beastie's back: Son of Obree to attempt HPV world record
Jamie Obree, son of Graeme, is set to take on his father's world record for a human powered vehicle in a prone position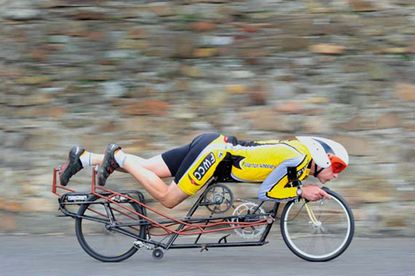 Graeme Obree is ready to build another version of his original homemade 'Beastie' bike, that helped him beat the world record for the fastest human powered vehicle in a prone position in September 2013.
But it won't be the former Hour Record holder who will be taking on the attempt, as he plans to help 20-year-old son Jamie to beat the 56.63mph target.
Jamie wanted to take the challenge on the original Beastie last year after accompanying his father to his record breaking ride in Nevada, at the World Human Powered Speed Championships, but was told it was too unstable to risk.
The first Beastie was made by Obree himself in his flat in Ayrshire out of an old saucepan, bike parts and a pair of rollerskates bought from a local charity shop, and as he told The Herald newspaper, the 49-year-old thinks he can build a better version that can outdo the original.
"I'm building the bike so Jamie can attack my prone record," Obree told the The Herald. "We both got a taste for it when we were out there last year and can't wait to go back for another bash. My record survived this year's championships and I'd be quite happy to see Jamie beat it. That would be a fantastic way to spend my 50th birthday."
Obree, who beat the Hour Record twice in 1993 and 1994, is looking for sponsors to back the record attempt, as he aims to help his son improve on his record by building a stronger and more aerodynamic version of Beastie.
"I've realised how much better the shell could be as that was something I had issues with first time around. I'd never built a shell before and even assuming aerodynamic principles, it wasn't quite right," he said.
"There are three aspects: the bike, the shell and the engine. Jamie's build makes him more of a power rider than me as I'm an endurance rider. That probably makes him better suited to that short burst required for breaking the record."
Photos by Rick Robson www.cyclesportphotos.com
More stories about Graeme Obree
Changes in Hour Record rules tempt former holder Graeme Obree to consider putting in a ride
Rick Robson followed the progress of Graeme Obree and his Beastie machine in their quest to break the human powered
Thank you for reading 20 articles this month* Join now for unlimited access
Enjoy your first month for just £1 / $1 / €1
*Read 5 free articles per month without a subscription
Join now for unlimited access
Try first month for just £1 / $1 / €1