Graeme Obree's 'Beastie' bike among his memorabilia up for auction
Former Hour record holder and world champion Graeme Obree puts famous medals, bikes and other memorabilia up for auction this week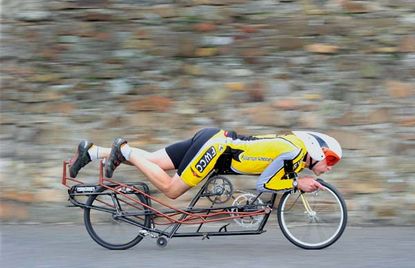 Scottish former UCI Hour Record holder and world champion Graeme Obree is putting his 'Beastie' bike up auction among a number of items related to his legendary cycling career.
Obree created The Beastie in his attempt to set a new human powered land speed record, and now it's going under the hammer this Friday at Great Western Auctions in Glasgow. Although Obree failed to take the outright world record, he did set a new world record of 58.62mph for cycling in the prone position.
The bike is estimated to go for between £10,000 and £15,000.
Obree used the machine in his attempt in Nevada, USA, in 2013, which became the subject of a documentary film, titled Battle Mountain after the venue for the record attempt. Obree made the bike himself in the kitchen of his Ayrshire flat.
Another of Obree's bikes is also up for sale, a hand-built steel time trial machine that he created in 2006. The estimated price is £2000-£3000.
Also among the 32 lots from Obree's collection are his 1995 individual pursuit world championships gold medal, 1994 UCI Hour Record medal, various British national championships and time trial medals and jerseys, and various trophies and certificates.
There are also a couple of artworks relating to his achievements, including a portrait of Obree riding on the track by artist Jim Taylor and a limited edition Flying Scotsman movie poster.
>>> Review: 'Battle Mountain: Graeme Obree's story'
One notable lot is a Through the Keyhole key, which was presented to Obree after he appeared on the television show. The estimated price for this is £30-£50.
Obree's items will come up for auction along with many other lots at Great Western Auctions on Friday, September 22. It presents a great opportunity for anyone with an interest in British cycling memorabilia.
Thank you for reading 20 articles this month* Join now for unlimited access
Enjoy your first month for just £1 / $1 / €1
*Read 5 free articles per month without a subscription
Join now for unlimited access
Try first month for just £1 / $1 / €1