Hammond quietly upbeat about Roubaix chances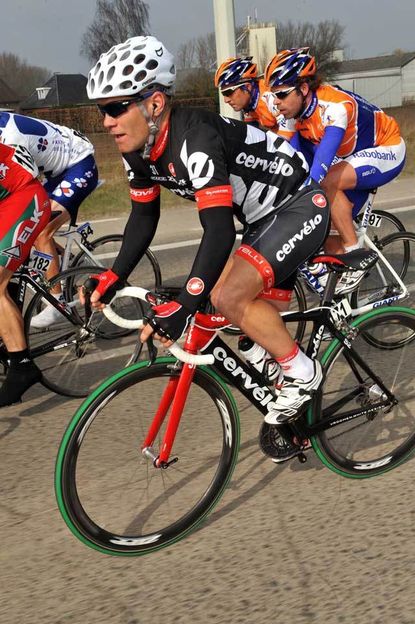 As the final countdown to Paris-Roubaix approaches, Britain?s top cobbled Classics specialist Roger Hammond feels he is on track for Sunday. But that?s very much as far as it goes.
?I?m going all right, but I?m not feeling confident. You can?t feel confident or cocky about Paris-Roubaix, it?s the hardest race in the world,? the Cervélo rider tells Cycling Weekly.
Third in 2004 and seventh in 2007, Hammond is guarded about what could happen on Sunday. And his recent Roubaix history could have something to do with it.
The Briton?s 2008 race was severely blighted in the final part of the race when a French rider, Rony Mathias, took a corner badly and fell. Hammond was riding just behind him, didn?t have time to get round Mathias and hit the deck, too.
The Briton suffered suspected fractures in his right hand, cuts and grazes and he rode the last 60 kilometres of the race barely able to hold onto the handlebars. When he got to the finish, he was in such pain he could barely take his race mitts off.
Hammond still finished 23rd, a result which spoke volumes about his form and about his frustration at being prevented to do any better.
And this time round? ?I?m feeling pretty encouraged by my condition, the form?s there, and I was very pleased with how I went in Flanders,? Hammond says.
?I came down with a bad cold straight after the Tour of the Algarve, and felt terrible all the way through Tirreno, and in Milan-San Remo was half the rider I usually am.?
?Fortunately after Harelbeke I was able to get a full week?s rest because the team didn?t do De Panne, and that made a huge difference. I rested up well, slept well and then from the Friday before Flanders, I?ve been feeling pretty good.?
?What is good, then, is that I?ve got much better form than last year or the year before.?
?But Paris-Roubaix is a one-day race, anything could happen: it could be a non-event like Ghent-Wevelgem was for me on Wednesday, or it could be fantastic. We?ll see.?
RELATED LINKS
2008 Paris-Roubaix report: Boonen wins
Thank you for reading 20 articles this month* Join now for unlimited access
Enjoy your first month for just £1 / $1 / €1
*Read 5 free articles per month without a subscription
Join now for unlimited access
Try first month for just £1 / $1 / €1