Haute Route cycling events expand into Norway
Multi-day sportive event series adds Scandinavian date from 2018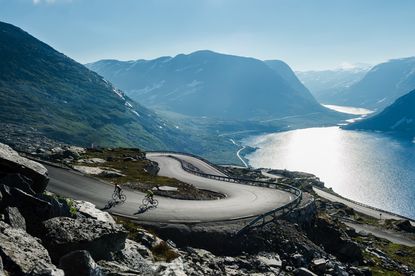 (Image credit: Destinasjon Ålesund & Sunnmøre)
The Haute Route series of multi-day sportive events is continuing its global expansion, with the announcement of the Maserati Haute Route Norway, due to take place from 2018.
Maserati Haute Route Norway will take place over three days, and like other events in the series will feature timed rides and full support. All of the rides will take place from a central location.
The new Scandinavian event will join those Haute Route events already taking place in the Alps, Pyrenees, Dolomites, Rockies, Alpe d'Huez and Mont Ventoux.
>>> Haute Route: Training and preparing for the world's toughest events
"Norway quickly became a front-runner as we reviewed possible locations for our next Haute Route adventure," said Matt Holden, cycling strategic development director at Haute Route organiser OC Sport.
"Our riders will discover some of the most beautiful and challenging terrain in the world where roads with majestic switch-backs climbs in amongst the Norwegian fjords – already an area of world class tourism."
The Haute Route events aim to treat amateur riders 'like pros', which includes mechanical and medical support, massages and post-ride meals - "the focus is exclusively on the riding".
Visit www.hauteroute.org for more information.
Haute Route events for 2017
Mavic Haute Route Rockies (Boulder – Colorado Springs)
Seven consecutive stages from June 24 to June 30
Haute Route Alpe d'Huez
Based in Alpe d'Huez
Three consecutive stages from July 12 to July 14
Haute Route Pyrenees (Anglet - Toulouse)
Seven consecutive stages from August 13 to August 19
Haute Route Alps (Nice - Geneva)
Seven consecutive stages from August 21 to August 27
Haute Route Dolomites (Innsbruck -Venice)
Seven consecutive stages from September 2 to September 8
Haute Route Ventoux
Three consecutive stages from October 6 to October 8
Thank you for reading 5 articles this month* Join now for unlimited access
Enjoy your first month for just £1 / $1 / €1
*Read 5 free articles per month without a subscription
Join now for unlimited access
Try first month for just £1 / $1 / €1