Holdsworth team unveils new clothing
Russell Downing gives first look at new team Holdsworth's striking orange and blue kit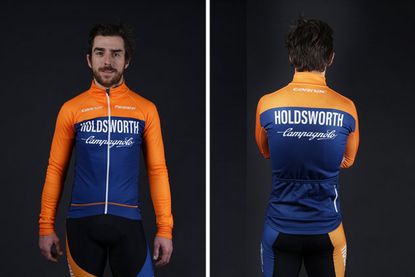 (Image credit: Holdsworth)
New team Holdsworth have unveiled their clothing for the 2018 season, modelled by rider Russell Downing.
The Yorkshire-based, Irish-registered UCI Continental-level squad has resurrected the Holdsworth name last used for a cycling team 40 years ago. The team's bike and kit hark back to that era with striking orange and blue kit, but given a modern twist.
The long-sleeve jersey and bib shorts worn by Downing in the photos released on Thursday show that the strip has an uncluttered design.
>>> Holdsworth team returns after a gap of 40 years: Russell Downing to ride
Sponsor names Holdsworth and Campagnolo adorn both the front and back of the jersey at chest-height, with orange at the top of the chest and the sleeves. Bib shorts are black, with an orange panel on the right thigh and blue panel on the left.
Planet X, owner of the Holdsworth brand, says that the team clothing will be available to purchase at a later date.
Earlier in the week, the team posted photographs of its Carnac helmets and Skoda team vehicles – all in the squad's orange and blue livery.
Feedback regarding the kit has been almost universally positive at this early stage, with comments including "Tidy", "This should be the most visible kit in the bunch" and "That looks great. Class".
http://www.youtube.com/watch?v=xQay-NhSlnY
Along with Downing, the team consists of German Björn Thurau; Briton Jake Womersley; Italians Seid Lidze and Mattia Viel; Irishmen Dermot Truloc, Damien Shaw, Sean McKenna, Brian McCrystal and Conn McDunphy; Isle of Man brothers Tom and Leon Mazzone; and Australian team pursuit world champion Nick Yallouris.
The team will hold its first training camp in Yorkshire during February, and is hoping to gain entry to the Tour de Yorkshire in May.
Thank you for reading 20 articles this month* Join now for unlimited access
Enjoy your first month for just £1 / $1 / €1
*Read 5 free articles per month without a subscription
Join now for unlimited access
Try first month for just £1 / $1 / €1