HTC-Columbia team presentation to be broadcast on the web Friday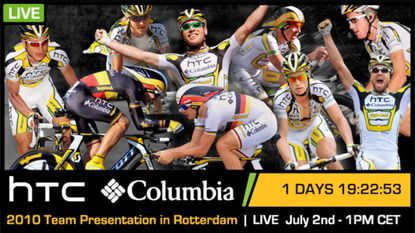 As befits their main sponsor in the field of bang-up-to-date communications, the HTC-Columbia team will be broadcasting their 2010 Tour de France team and bike presention live from Rotterdam on the internet at 1pm CET this Friday 2nd July.


For UK lunchtime viewers, that's 12 noon and 7pm if you're in New York.
The one hour show will include the big boss Bob Stapleton plus management team Rolf Aldag, Brian Holm and Allan Peiper, all of whom should be familiar to UK cycling fans.
There will be a presentation on the team bikes including a mysterious "Project F01" machine which hints at aerodynamics.
But it's the team members in Mark Cavendish, Bernhard Eisel, Bert Grabsch, Adam Hansen, Tony Martin, Maxime Monfort, Mark Renshaw, Michael Rogers and Kanstantsin Sivtsov we'll be mostly interested to see in a new jersey design.
The internet has been buzzing with what the Manx Missile Mark Cavendish will be signalling to the new co-sponsor Skype, announced yesterday.
You can click on the video link within the Scott Bikes website below but it won't actually play until shortly before 1pm CET (noon in UK) on Friday. You could always look at a nice Addict in the meantime :)
Thank you for reading 20 articles this month* Join now for unlimited access
Enjoy your first month for just £1 / $1 / €1
*Read 5 free articles per month without a subscription
Join now for unlimited access
Try first month for just £1 / $1 / €1