Icons of cycling: Jan Ullrich's Bianchi Walser time trial bike
Jan Ullrich's mystery machine was the stuff of nightmares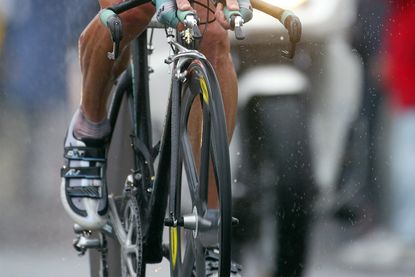 Lance Armstrong was notoriously imperturbable but the sleek, black time trial bike ridden by Jan Ullrich in 2003 had him totally spooked.
Ullrich missed the 2002 Tour de France after he was banned for six months for taking amphetamines in a nightclub but the next year was back with a new Bianchi team that was built around him.
The German was lean, fit and newly confident. Plus he had a secret weapon for the time trial.
The first individual time trial was a hilly 47 kilometres from Gaillac to Cap'Découverte, a spectacular disused open-pit coalmine in the south of France that was shaped like an enormous amphitheatre. And it was here that the drama of the 2003 Tour unfolded.
>>> Icons of cycling: Shimano Dura-Ace 7800
The German rolled down the start ramp on simply the most menacing looking bike the cycling world had ever seen. It had the Bianchi name on its down tube but it was not the Italian manufacturer's stock time trial frame.
It didn't take long for details of the mystery machine to emerge: it was custom made for Ullrich by Andy Walser, a Swiss former architect who was now making high-end carbon-fibre bicycles — and sleds — of his own design.
Razor-sharp
The Walser had traditional, simple lines yet it was simultaneously startlingly futuristic. It had a narrower bottom bracket and rear hub than standard, giving the bike a razor-sharp profile and indeed it set about slicing away the Texan's advantage.
By the time he crossed the line Armstrong was clearly in pain, his spittle-rimmed mouth set in an unfamiliar grimace.
Ullrich had beaten him in a time trial for the first time and was just 34 seconds away from the yellow jersey.
Get your pacing right
Sparks fly
Armstrong clawed back time after falling off and then attacking on Luz-Ardiden and Ullrich's last chance to close the gap ended in the final time trial when the Walser slid away from him on a roundabout in the rain.
Sparks flew as pedal and derailleur hit the road but the fire of Ullrich's challenge was out.
Armstrong had won the Tour but the Walser had worried him. Did the narrow bottom bracket have a biomechanical as well as an aerodynamic advantage?
>>> How to be more aero on your road bike (video)
Trek copied the Walser so Armstrong could try it out but his power output was reduced and the smaller Q-factor was rumoured to have induced tendonitis.
Walser made bikes for other pros and federations during the 2000s, which were badged as Wiliers and Specializeds among other brands, but for most fans the unmistakeable shape will forever be associated with Jan Ullrich.
Thank you for reading 20 articles this month* Join now for unlimited access
Enjoy your first month for just £1 / $1 / €1
*Read 5 free articles per month without a subscription
Join now for unlimited access
Try first month for just £1 / $1 / €1