Icons of cycling: Shimano Dura-Ace 7800
Shimano Dura-Ace 7800: The Japanese firm's Tour de France-winning groupset embodied the Armstrong era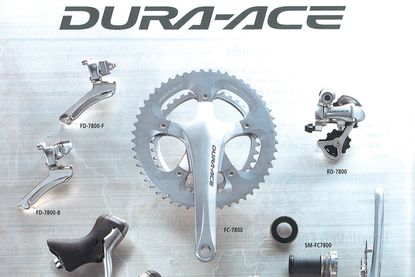 A 10th sprocket might have been the headline feature of Shimano's new top-line groupset, but the Japanese company did far more than shift up a gear when it launched Dura-Ace 7800 in 2004.
Dura-Ace had been the name for Shimano's pro-level components since 1973, but until 1999 there had never been a Dura-Ace Tour de France victory.
Perhaps for this reason, the 25th anniversary Shimano Dura-Ace 7700 groupset of 1998 was an elegant but slightly muted affair compared to the blingfest of Campagnolo's 50th anniversary groupset in 1983.
However, after Lance Armstrong blasted to cycling's greatest prize on Shimano Dura-Ace 7700 in 1999, 2000, 2001 and 2002, Shimano was emboldened.
No longer in Campagnolo's shadow, the new 10-speed Dura-Ace, debuted by US Postal in 2003 a year before the public got their hands on it, was bigger, brasher and more confident, perfectly reflecting in its mirror-polished surfaces, the pumped-up power of the Armstrong era.
Style and substance
The chainset was 7800's centrepiece. Shimano's new Hollowtech II outboard-bearing bottom bracket system meant crank bolts were redundant.
A hollow oversized axle was welded to the right-hand crank, while the left hand crank fitted onto the other, splined end, tightening with pinch bolts.
Freed from the constraints of sticking a bolt through the middle of the spider, Shimano went to town with the styling.
>>> New Shimano Dura-Ace groupset spotted
The 7800 chainset with its aero chainring was a work of art, a sculpture in forged aluminium that looked like a tensed metal muscle.
And it had a muscular performance too — lighter and considerably stiffer than the Octalink system of Dura-Ace 7700, which had been criticised for increasing the diameter of the axle at the expense of the bearings, which were still inboard.
The STIs were also bigger and offered increased leverage from the hoods as well as an extra aerodynamic position achieved by holding the bulbous ends of the hoods.
As the last generation of Dura-Ace with external gear cables, they also shifted with an incredibly light action and even greater plushness than their predecessors.
Find the right groupset for you
Pre-carbon benchmark
Shimano by the early 2000s already had a reputation for producing the best-braking calipers, though this could have been down to pad compound rather than caliper design.
Whatever it was, the feel of the 7800 brakes was a revelation. Shimano had worked the illusion of servo assistance into braking as well as gear changing.
Shimano's 7700 pedals were — and still are — a favourite with track riders, but for the road they simply didn't release reliably enough.
So Shimano launched the SPD-SL Look-style pedal and cleat along with 7800. As with the rest of the 7800 groupset, Armstrong rode pre-production versions in the Tour de France in 2003.
Shimano Dura-Ace 7800 was a hard act to follow, and when 7900 arrived in 2009 it got a lukewarm response.
For many, the high-sheen 10-speed Dura-Ace was the most striking looking and best-performing groupset of the pre-carbon, pre-Di2 era — power dressing for bikes in the most notorious yet arguably most spectacular decade in cycling.
Thank you for reading 10 articles this month* Join now for unlimited access
Enjoy your first month for just £1 / $1 / €1
*Read 5 free articles per month without a subscription
Join now for unlimited access
Try first month for just £1 / $1 / €1
Simon Smythe is Cycling Weekly's senior tech writer and has been in various roles at CW since 2003. His first job was as a sub editor following an MA in online journalism. In his cycling career Simon has mostly focused on time trialling with a national medal, a few open wins and his club's 30-mile record in his palmares. These days he spends most of his time testing road bikes, or on a tandem doing the school run with his younger son.