Icons of cycling: The maglia rosa
The story of one of cycling's most distinctive jerseys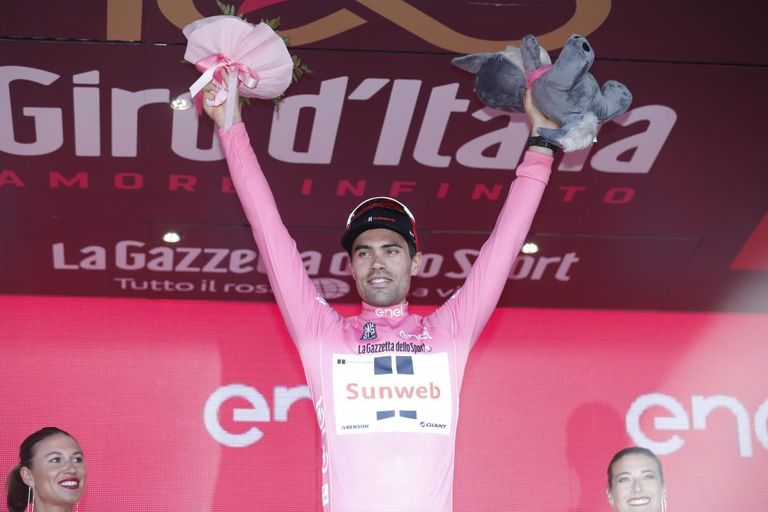 (Image credit: Yuzuru Sunada)
The pink jersey that denotes the leader of the Giro d'Italia first appeared in the 1931 race and unlike the origins of the Tour de France's yellow jersey, there is no debate as to why it is pink.
The maglia rosa is so coloured because the pages of the sports newspaper that founded the race, La Gazzetta dello Sport, are pink.
Similarly, the pages of the Tour de France's founding newspaper, l'Auto were yellow, but another narrative holds that when the Tour director, Henri Desgrange, decided to have a race leader's jersey in 1913, yellow was the only colour available in the quantities he required.
The first maglia rosa, won by the Italian racer Francesco Camusso, had a roll-neck collar and front pockets for food.
The only marking on it was a grey shield in the middle of the chest, which bore the symbol of the Italian fascists. It was there by the ruling Fascist Party decree.
Tailor-made
Vittore Gianni made the first pink jerseys. He was a master tailor who founded a business in Milan in 1896 and specialised in active wear.
AC Milan, Juventus and the Milan Ballet were regular clients. Gianni started making cycling clothing in 1924 for triple world road race champion Alfredo Binda.
>>> Icons of cycling: The Cima Coppi
Then in 1935 Gianni employed Armando Castelli, who bought the business from him in 1939. Castelli made jerseys for Fausto Coppi, Gino Bartali and Rik Van Looy, as well as supplying 12 professional teams, but still under the Vittore Gianni brand.
Armando's son Maurizio took over in 1974, changing the company name to Castelli and putting its scorpion logo on the pink jersey. However, Santini won the contract to supply pink jerseys to
the Giro in 1993, and has been doing so ever since.
Watch now: Giro d'Italia 2017: Essential guide
Made from lightweight polyester fabric, with inserts and pockets in Cyber Rider fabric, the modern pink jersey's finish resembles the rough look of an asphalt road.
The jersey has elasticated cuffs and an elasticated band around the bottom with internal anti-sliding silicon grip, to make it more aerodynamic.
>>> Icons of cycling: Passo dello Stelvio
After being solid pink from 1913 to 1999, since 2000 there have been slight shifts in design. The 2006 jersey had a bike motif picked out in darker pink. Then in 2009, to celebrate the Giro's centenary, the jersey's collar and side panels were edged with the green, white and red colours of the Italian flag. It was designed by Dolce and Gabbana.
Paul Smith did the 2013 jersey, calling his creation maglia rosa passione. Then in 2014, when the race started in Belfast, all the Giro d'Italia classification jerseys were the work of Irish designer Fergus Niland.
The pink jersey featured stylised shamrock and tweed motifs, and bore the legend 'Giro fights for Oxfam', as well as the jersey sponsor, Balocco's name.
Thank you for reading 5 articles this month* Join now for unlimited access
Enjoy your first month for just £1 / $1 / €1
*Read 5 free articles per month without a subscription
Join now for unlimited access
Try first month for just £1 / $1 / €1