Icons of cycling: The Cima Coppi
Named after Italy's most famous cyclist, the Cima Coppi has celebrated the highest point of the Giro d'Italia since 1965 - Words by Giles Belbin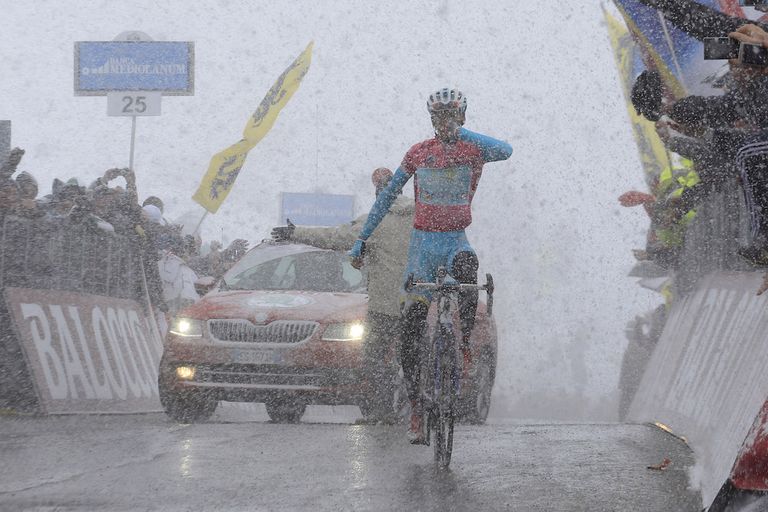 (Image credit: Yuzuru SUNADA)
In 1965 the organisers of the Giro d'Italia devised a stage that would honour Fausto Coppi.
Starting in Campodolcino and finishing in Soldo, stage 20 would tackle the Passo Stelvio en route. At 2,757m altitude, it was the highest point of the race and the first rider over the summit would be re- warded with a new prize: the Stelvio was the Giro's first Cima Coppi ('Coppi peak').
>>> Icons of cycling: Blockhaus
It was an apt choice. The Stelvio had been the climb on which Coppi's record- equalling fifth Giro win had been forged in 1953 — the first time the race had used the mountain.
Coppi had endured a torrid race and trailed Hugo Koblet by nearly two minutes with two days to go. He had thrown everything at Koblet but the Swiss rider had held firm. Coppi had all but given up hope, congratulating Koblet on his performance.
Then Coppi powered away on the Stelvio and left Koblet standing. The Italian put nearly three and a half minutes into the Swiss, soloing over the Stelvio, taking the stage and stealing the race lead. The following day Coppi rode into Milan with pink on his shoulders.
Dramatic introduction
Twelve years after that famous day, the Stelvio was the obvious place to introduce a new prize in the memory of Coppi, who had died in 1960 after catching malaria.
It was to prove a dramatic day. Snow had fallen heavily and, with the descent off the climb blocked, the finish had to be moved from Soldo to the Stelvio itself. Graziano Battistini won the prize and the stage, riding through a corridor of snow banks before having to take to foot to battle over the snowdrifts that blocked the road.
"The stage of the Cima Coppi did not disappoint those who wanted to see the riders engaged on a very difficult course," said Italian daily La Stampa.
Some 18 climbs have held the title of the Cima Coppi, with the 2,239m Passo Pordoi having had the honour most often (13 times).
In 1967 Felice Gimondi was the first of six riders to date that have claimed the Cima Coppi and then gone on to win the race overall (although the Cima Coppi stage was later annulled). Eddy Merckx (1968), Franco Chioccioli (1991), Miguel Indurain (1993), Marco Pantani (1998) and Vincenzo Nibali (2013) are the others.
Initially the organisers tried to incorporate time gaps at the top of the Cima Coppi into the GC but then settled for doubling the mountain prize points on offer at the summit.
For most being the first to the top of a mountain that carries the name of Italy's most iconic cyclist is surely reward enough.