Icons of cycling: Plum bike shop, Ghent
We profile the Ghent bike shop that hosted so many Anglophone bike racers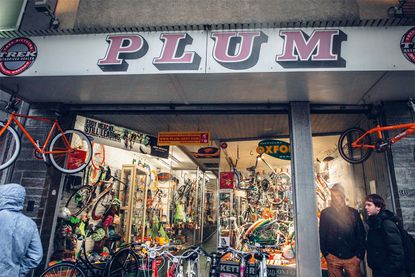 In 1910 Pol Desnerk and his wife Coralie opened a tiny bike shop in Bagattenstraat in Ghent. They were an ambitious couple and soon realised a shop wasn't enough; Pol and Coralie wanted a brand, or at least something that would make them stand out from the crowd. They tried using Pol's initials PDS as a name, but it meant nothing, so instead they tried La Plume.
In that era, anything French stood for quality in Flanders. The posh shops in the Flemish city all had French names, and the staff and customers spoke French.
>>> All the latest Tour of Flanders news
La Plume had the cachet of quality, and to make it sound grander still, and more sporty, it became Plume Vainqueur when the Desnerks took over new premises in Nederkouter, the road running from Ghent centre to the Sportspaleis, home of the Kuipke velodrome.
Pol's son Marcel Desnerk and his wife Rosa took over the reins in 1940, and because Flanders had a bigger regional identity by then, they knocked the 'e' off Plume to make it a more Flemish-sounding Plum. They also moved from sponsoring single riders to sponsoring teams.
>>> The defining cobbles, bergs and climbs of the Belgian Classics
Plum was in the pro peloton from 1949 until 1961, but before that, Rosa Desnerk had started a sideline renting rooms in their rambling family home to English-speaking bike racers. Her first tenants were two Australians, Alf Strom and Reg Arnold, who broke into European six-day racing, winning several events.
Many followed. Tom Simpson stayed at the Desnerks for a time, as did Allan Peiper and Sir Bradley Wiggins's father, Gary.
Many more less well known Brits and Aussie riders stayed there, and 'Madame Rosa' became the Belgian matriarch of British and Australian cycling.
King Kelly talks cobbles
Expanding the empire
Rosa and Marcel's son Paul took over the business in the 1960s, and in 1964 he opened three more branches. Before long he had 14 shops across Flanders, and a novel business model. Ghent resident Barry Hoban knew Paul well.
"Paul's shops always had a flat above, and he'd give the flat to each shop manager rent free, but he didn't pay a salary," Hoban explains.
>>> Barry Hoban: A British cycling great
"Instead the manager got a percentage of everything sold, so they were always motivated. He also put all his stock on computer. In the late Seventies it was a very slick operation."
Four Plum shops remain, but it's the one at Nederkouter 141 — now Plum-Gent — which holds a special place in British cycling history, and there's a bike museum in the basement spanning 100 years. Well worth a visit just for that.
Thank you for reading 20 articles this month* Join now for unlimited access
Enjoy your first month for just £1 / $1 / €1
*Read 5 free articles per month without a subscription
Join now for unlimited access
Try first month for just £1 / $1 / €1