The wooden bike that weighs less than 10kg
Here's a rather beautiful wooden bike hand crafted in Italy by Woodbikes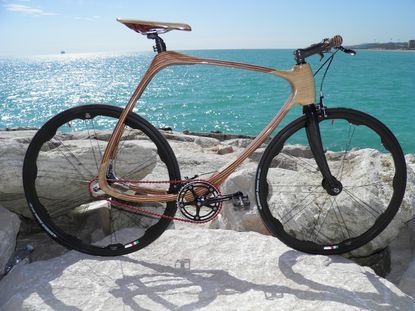 Completely hand-built of ash wood, for its flexibility, and mahogany for its durability, the frame is strong enough to do away with a seat tube.
The wood is laminated with bidirectional carbon fibre before bonding with epoxy and curing to add strength and reduce weight compared to an all-wooden bike. More carbon fibre is laid down in the areas of greater stress on the frame to increase their strength.
After lamination, the frame is pared down by hand to smooth out the lines, then epoxy-coated to make it water- and beetle-proof and to leave the grain of the wood exposed.
>>> Six beautiful bikes from Bespoked Bristol
As with other wooden bikes we've featured, the carving doesn't stop at the frame. The bars and even the pedals are hand made from wood, although they've drawn the line at wheels and running gear.
There's a conventional fork and stem – Woodbikes show their frame with steel or carbon forks – wheels and singlespeed groupset. The photos show the bike with a single Campagnolo Athena front brake, although production bikes will have Miche components.
As with the frame, the bottle cage is also somewhat unconventional and we're not planning to test the wooden saddle any time soon.
On sale from www.cwbikes.it for around 6500 euros, the complete bike weighs between nine and ten kilos, depending on how many wooden components are bolted onto it.
Thank you for reading 5 articles this month* Join now for unlimited access
Enjoy your first month for just £1 / $1 / €1
*Read 5 free articles per month without a subscription
Join now for unlimited access
Try first month for just £1 / $1 / €1