Scary crash video shows the moment a rider plummets off mountain road into ravine
Video shared by former pro rider Joaquim Rodriguez also showed rider pedalling off unscathed.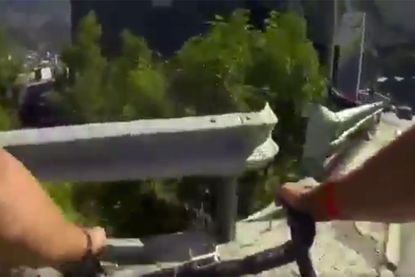 This is the video of the frightening moment a rider hit a roadside barrier on a fast descent, and fell around 10 metres off the edge of the road, amazingly walking away unscathed.
The video was posted on Twitter by former pro Joaquim Rodriguez, with a chest-mounted camera catching the moment where it all goes wrong as the rider approaches a right-hand bend on a high-speed descent.
>>> Watch: Multiple crashes on treacherous, muddy course at Cyclocross World Cup
It appears that the rider's rear wheels slips out, forcing him to carry straight on over the metal barriers.
The rider's Merida Reacto bike stops dead at the barrier, flinging him over the fence and straight down a sheer drop into some trees and undergrowth.
Thankfully the rider is unscathed, picking himself up and climbing back up to the road where two cyclists are waiting and check that he is okay.
>>> Watch: Fan nearly gets caught up in crash at cyclocross race
Rodriguez tweeted the video with a translation that many riders should be able to relate to:
"Behaviour of a cyclist when you fall! First: I am well. Second: And so is my bike? Third: Well fix the shifter and continue! 👌🏼"
Thank you for reading 20 articles this month* Join now for unlimited access
Enjoy your first month for just £1 / $1 / €1
*Read 5 free articles per month without a subscription
Join now for unlimited access
Try first month for just £1 / $1 / €1