JUNIORS STEAL THE SHOW AT REVOLUTION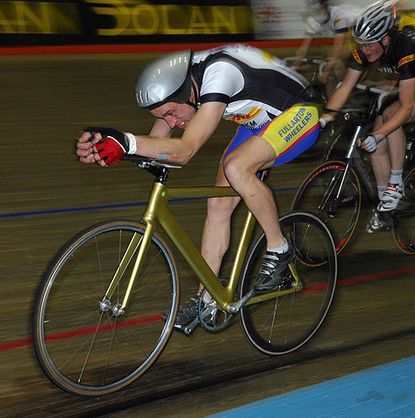 TO VIEW REVOLUTION 15 GALLERY CLICK HERE
FOUR junior riders stole the show at the Revolution meeting at Manchester Velodrome when they beat former World Champion Graeme Obree (pictured) in a four-km individual pursuit challenge.
Riding as a team pursuit unit, the quartet of Tom Skubala, Sam Freeman, Andy Fenn and Mark Christian were able to close down on the solo-riding Obree and catch him on the closing lap of this unique 16-lap spectacle.
Despite his defeat, Obree - who had not ridden a race since June - was the night?s big draw. The eccentric Scot rode the pursuit in his famous and now outlawed superman position before embarking on a few display laps on a replica version of his ?Old Faithful? bike.
As well as paying tribute to the former World Hour Record holder, the latest Revolution meeting honoured Isaac Galvez, the World Madison Champion who died following an accident while racing in the Ghent Six-Day last month. Having already been contracted to ride at the Revolution, the Spaniard?s start fee was donated to a memorial fund and a minute?s silence was observed.
Later in the evening, the main Madison event was held in his name. It was won by Bradley Wiggins and Swiss rider Franco Marvulli, who both knew Galvez and fondly remembered him.
In the sprint competition, Craig MacLean won each event he rode. He stopped the clock fastest in the 200m time trial, claimed each of his match sprint heats and brought the curtain down on the evening with victory in the Keirin.
RESULTS.-
200m time trial.- Craig MacLean (Great Britain) 10.336; 2, J. Kenny (GB) 10.520; 3, J. Staff (GB) 10.589.
Keirin.- Craig MacLean 11.214; 2, J. Staff; 3, J. Kenny.
Sprint Omnium.- Craig Maclean; 2, J. Kenny; 3, J. Staff.
Flying Team Sprint.- Bradley Wiggins (Ravenswood), Roberto Chiappa (Italy) & Jamie Staff 42.739 beat David Millar (Saunier Duval), Craig MacLean & Jan Van Eijden (Germany) 43.704.
1km Madison Time Trial.- Tony Gibb & James Taylor (Plowman Craven RT) 59.002sec; 2, A. Blythe & P. Kennaugh (Science in Sport) 59.437; 3, M. Brammeier & J. Bellis (Revolution) 59.940.
4km Pursuit Challenge.- DHL Future Stars (Tom Skubala, Sam Freeman, Andy Fenn & Mark Christian) caught Graeme Obree (Scotland) in 15 laps.
Madison Elimination.- Marco Villa & Iljo Keisse (Dolan); 2, B. Wiggins & F. Marvulli (Ravenswood); 3, D. Stam & P. Schep (24-7 Recruitment).
10km points race.- Adam Blythe (Science in Sport) 10 pts; 2, R. Lloyd (Royles) 8; 3, A. Dowsett (Face Partnership) 5.
20km Madison.- Bradley Wiggins & Franco Marvulli 13 pts; 2, M. Villa & I. Keisse 10; 3, A. Alonso & U. Elorriaga (Visions Consulting) 7.
Thank you for reading 10 articles this month* Join now for unlimited access
Enjoy your first month for just £1 / $1 / €1
*Read 5 free articles per month without a subscription
Join now for unlimited access
Try first month for just £1 / $1 / €1
Snowdon Sports is a long-established independent sports news agency, which supplies editorial to a range of media outlets - such as Cycling Weekly - as well as sports governing bodies. Snowdon Sports often covers results at Cycling Time Trials events in the UK and has long been a source of information and imagery to Cycling Weekly.