Kenyan rider has leg amputated after Tour du Rwanda crash
Samwel Mwangi broke his femur in final stage accident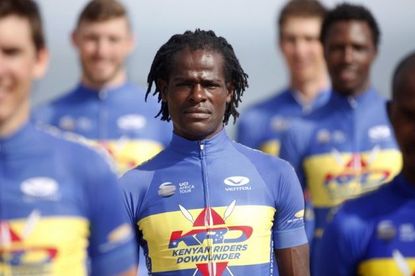 (Image credit: Kenyan Riders Down Under)
A Kenyan cyclist has had his leg amputated after a serious crash in the Tour du Rwanda.
Samwel Mwangi, who rides for the UCI Continental team Kenyan Riders Down Under, crashed in the final stage of the Tour du Rwanda, breaking the femur in his left leg.
>>> Move over Qatar: Massive crowds at Tour du Rwanda put World Championships to shame (video)
The break severed the femoral artery, cutting off blood circulation to the lower part of the leg, forcing doctors to amputate.
2016 was Mwangi's first season as a full time rider, after being discovered by Kenyan Riders Down Under founder Nicholas Leong while working as a bicycle taxi operator in Eldoret in Kenya.
>>> Is the 2018 Tour de France set to visit the dirt roads of Tro-Bro Léon?
Mwangi had picked up a couple of top ten placing on his first season with the UCI Continental team, but had mainly been deployed as a domestique, competing in 2.1 and 2.2 level races such as the Tour of China and the Tour de Flores.
Thank you for reading 20 articles this month* Join now for unlimited access
Enjoy your first month for just £1 / $1 / €1
*Read 5 free articles per month without a subscription
Join now for unlimited access
Try first month for just £1 / $1 / €1