Landis admits he doped, and implicates others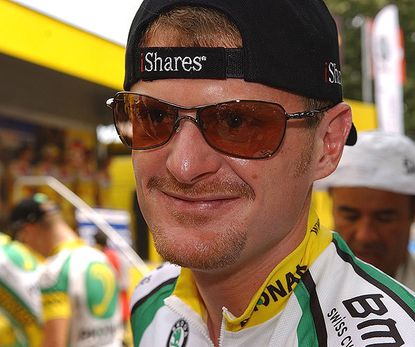 Floyd Landis has admitted that he used banned performance-enhancing substances and blood doping techniques in a series of emails sent to US anti-doping authorities, and national and international cycling officials, according to a report published by the Wall Street Journal.
The emails, sent in April and May this year, outline how and when Landis doped, and he names riders and team officials who assisted him including seven-times Tour de France winner Lance Armstrong and his former boss at the US Postal team, Johan Bruyneel.
Since the news of the emails broke, Landis has spoken with ESPN's Bonnie Ford and gave the reason for his admission: "I want to clear my conscience, I don't want to be part of the problem any more."
Landis admits to the use of blood-booster erythropoetin (EPO), testosterone and blood transfusions. He also alleges that Armstrong showed him how doping can improve performance and that Bruyneel introduced him to the use of testosterone patches, growth hormone and blood doping in 2002 whilst he was riding with Armstrong at US Postal.
Landis also alleges that he was shown how to evade the detection of his use of banned substances by Bruyneel. He also says that he carried on doping when he joined the Swiss Phonak
squad after leaving US Postal, and that team owner Andy Rihs knew.
The American also names fellow US cyclists and former US Postal team-mates George Hincapie, Levi Leipheimer and David Zabriskie.
Although Landis has kept detailed journals of his own doping, he admits that he has little or no evidence of the other riders' illegal doping, a fact which will significantly weaken his revelations.
Landis was stripped of his 2006 Tour de France win after failing a test for synthetic testosterone during the race. Since then, he has served a two-year suspension from competition and undertaken a lengthy, protracted and expensive legal battle to clear his name.
More later...
Floyd Landis: From Tour de France 2006 to doping admission
March 10, 2010: Landis signs with Bahati Foundation team
February 15, 2010: Arrest warrant issued for Landis
June 30, 2008:Landis loses final CAS appeal
January 13, 2008: Landis appeal due to be heard in March
December 19, 2007: Landis barred from racing in France until 2009
September 21, 2007: Landis loses appeal, Pereiro named 2006 Tour winner
September 20, 2007: Landis loses Tour de France 2006
May 20, 2007: Landis faces tough cross-examination
April 23, 2007: L'Equipe claim extra tests find synthetic testosterone in Landis Tour sample
January 31, 2007: Landis writes off 2007 season
August 8, 2006: Landis goes legal
October 12, 2006: Landis puts defence on website
July 28, 2006: Landis claims he has naturally high testosterone levels
July27, 2006: Landis suspended following positive test
July26, 2006: UCI announce failed test at Tour de France
Thank you for reading 5 articles this month* Join now for unlimited access
Enjoy your first month for just £1 / $1 / €1
*Read 5 free articles per month without a subscription
Join now for unlimited access
Try first month for just £1 / $1 / €1