Lee Baldwin takes inaugural Jenkin Road hill climb title (video)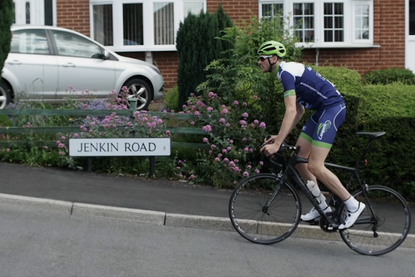 Champion System's Lee Baldwin emerged victorious from the inaugural Jenkin Road hill climb competition on Saturday, July 4, winning the men's competition by over three seconds.
Branded the Cote de Wincobank hill climb, named after the hill fort that sits next to Jenkin Road, the race celebrated the year anniversary of the Tour de France coming to Sheffield.
That day, the pro peloton led by Jens Voigt and Vincenzo Nibali made light work of the 0.8km road, which averages a lung-busting 11 per cent.
Maxing out at 33 per cent, it was no surprise to see many of the riders in the video above collapsing on the ground gasping for air, especially in the heatwave conditions we experienced on Saturday.
Baldwin smashed up the hill in 2m13, beating Polypipe's Thomas Traviss-Pollard (2m16) into second place, with Joseph Clark coming in nine seconds down.
In the women's competition, Sheffrec CC's Julia Van Campen took the win in 3m15, ahead of Carnac-Planet X duo Nicola Soden and Sandra Mackay.
Watch highlights of stage two of the Tour de France
Thank you for reading 20 articles this month* Join now for unlimited access
Enjoy your first month for just £1 / $1 / €1
*Read 5 free articles per month without a subscription
Join now for unlimited access
Try first month for just £1 / $1 / €1