Revealed: Limits power meter put to the test for the first time
CW got hold of the first samples of the long-awaited Limits power meter, and we put it to the test.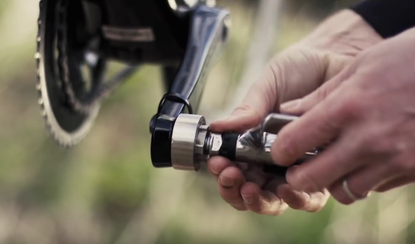 The first samples of the long-awaited Limits power meter were shown in public today (Friday 27 May) and we got our hands on them for Cycling Weekly.
It's a year to the week since the Scottish-based company raised $500,000 through crowd-funding. They promised to delivering an "affordable" product, at just $289 each, before last Christmas.
Today a carton of the first 50 were put on show at the launch at the Peebles Mountain Bike Centre.
Scottish road cyclist Jamie Henderson of Spokes racing team demonstrated the Limits unit on a Wahoo Kikr turbo trainer. Then company chief operating officer Gordon Drummond helped guests to fit the unit to bikes, screwing in between the left crank and pedal.
Jon Entwistle, coach at enthDegree Cycling, Aberdeenshire, tried it for Cycling Weekly. "I linked it to my Garmin and, at the same time, had a Stages power meter linked to my iPhone so I could compare the readings over three laps of the course," he says.
"There was a difference in the power readings but it was only about 10%, so I'm quite happy with that because the price of the Limits is good and, to be frank, it's not clear which of the two is more accurate," says Entwistle.
He also expressed some relief, having forked out for eight units when the crowd-funding project was announced. Repeated delays and missed deadlines prompted a backlash on social media and raised fears that investors had been scammed.
More on this story
Limits customers to get power meters 'by end of June'

"I've seen it, I've tried it and I'm pleased that it exists at last," says Entwistle. "It's not vapourware."
Cycling Weekly, which exclusively revealed the project in April 2015, will be running full tests of Limits. Drummond expects that production at the Chinese manufacturer will ramp up and all backers will get their power meters in the next four weeks.
A model which fits the right crank and pedal will be developed next.
Max Glaskin is an award-winning freelance journalist who tweets about cycling and science as @CyclingScience1 and is the author of Cycling Science (published by Frances Lincoln UK, Chicago University Press USA, and seven other languages).
Thank you for reading 20 articles this month* Join now for unlimited access
Enjoy your first month for just £1 / $1 / €1
*Read 5 free articles per month without a subscription
Join now for unlimited access
Try first month for just £1 / $1 / €1