Limits customers to get power meters 'by end of June'
The company has told Cycling Weekly that customers will receive their power meters by the end of next month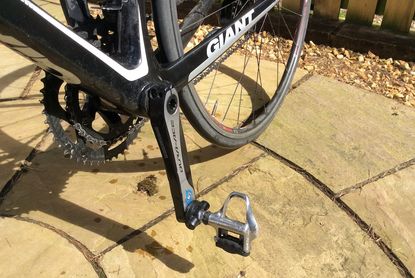 Everyone who backed the crowd-funded Limits power meter should get the product by the end of June, the company says today.
Gordon Drummond, Limits' chief executive has told Cycling Weekly today, Friday May 13, that the first 50 were in transit from their Chinese manufacturer and due to arrive by Tuesday, May 17.
When they arrive in the UK, samples will be tested and then the remainder of the initial batch will go to the earliest backers.
"It'll be first come, first served," says Drummond.
The power meter is designed to sit between the pedal and the crank and cost about £260 (US$385). When it was first announced exclusively by Cycling Weekly in April 2015, Limits promised delivery before Christmas.
Since then, there have been repeated delays and backers have worried they might never get what they paid for.
"We've had some difficulties with manufacturing," Drummond admits, saying he was acutely aware people had been expecting delivery of the low-cost power meter at least five months ago.
"Two problems were affecting the manufacturing yield and we've got two guys out there who have now sorted them out," he says, "So today was the first time we got it 100% right."
Credit: Chris Catchpole
Everything you need to know about the best power meters, including what they are, key features, and how to use
On the automatic production line, jigs had not been holding the strain gauge component in place and then too much glue was being applied.
"The strain gauge is the most expensive component of the power meter and we always knew that bonding it would be the most difficult part of production," says Drummond.
Next week production will ramp up as line workers are trained. By the end of the month Drummond expects the factory to turning out 500 a week.
"The reality is that it's going to take the rest of this month and all of June to make enough products for all of our backers," says Drummond, "I know that's not what people want to hear but I've got to be realistic."
Max Glaskin is an award-winning freelance journalist who tweets about cycling and science as @CyclingScience1.
He is the author of Cycling Science (published by Frances Lincoln UK, Chicago University Press USA, and seven other languages).
Thank you for reading 20 articles this month* Join now for unlimited access
Enjoy your first month for just £1 / $1 / €1
*Read 5 free articles per month without a subscription
Join now for unlimited access
Try first month for just £1 / $1 / €1