London to host six-day track meeting in October
Lee Valley Velodrome to stage the first event of its type in the capital since 1980.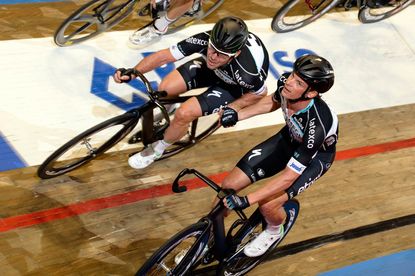 (Image credit: Watson)
London will host its first six-day track meeting in 35 years this autumn, it was announced today.
Six Day London will take place at the Lee Valley Velodrome between October 18 and 23, with tickets going on general sale on Saturday (July 4).
A three-year deal to stage the event in the capital has been agreed, and races for junior and female riders will be included as part of its programme.
The six-day will be organised by the Madison Sports Group and was launched in the capital today by Mark Cavendish, who last year won the Zurich six and placed second in the most popular meeting of its kind in Ghent, Belgium.
The latter is extremely popular with British fans, and Madison's CEO Mark Darbon hopes that the London six will capture the imagination in the same way.
"The fan experience is very important to us, for those in the arena and watching on TV," said Darbon. "As such, we're investing heavily in in-venue sports presentation and entertainment to ensure the atmosphere for ticket holders and hospitality guests is electric.
"And, we're working with broadcasters to offer a new perspective for fans, looking to events such as the America's Cup for inspiration in using technology to ensure the sport is as exciting and as accessible as possible."
Wembley Arena was the last host of the Skol 6 in 1980, which took place on a purpose built, 160m-long track. Islington, Earls Court and Olympia also previously hosted such meetings, dating back as far as 1878.
Since the demise of the Wembley event, attempts have since been made to relaunch a six-day in the capital: in June 2008, then Prime Minister Gordon Brown revealed plans for an annual cycling festival that comprised such an event. However, event director Tony Doyle was forced to postpone the idea because of the economic climate.
The racing programme will feature well-known six-day events, such as Madison, derny and elimination races. One difference to its European equivalents is that racing will run until approximately 10.15pm each evening, much earlier than other established sixes.
To buy tickets, and find out about a 72-hour pre-sale for British Cycling members, visit www.sixday.com
Thank you for reading 20 articles this month* Join now for unlimited access
Enjoy your first month for just £1 / $1 / €1
*Read 5 free articles per month without a subscription
Join now for unlimited access
Try first month for just £1 / $1 / €1