Majerus wins, but Brits take the stage three plaudits at the Women's Tour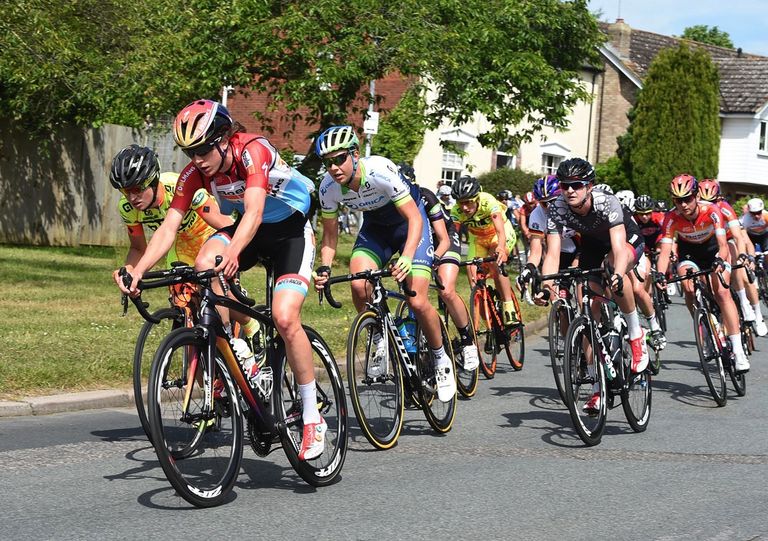 (Image credit: Andy Jones 2014)
The sun finally came out for British the riders on stage three at the Aviva Women's Tour.
Luxembourg road champion Christine Majerus won the stage comfortably, but behind her Lucy Garner (Liv-Plantur) and Hannah Barnes (United Health Care) battled it out for the third step on the day's podium.
It was Garner who pipped her lifelong rival, putting injury and the pressure of a poor season behind her. The 20-year-old always answers questions with a smile, but as she spoke to reporters it was as if a weight had been lifted from her young shoulders.
"The team got me in the best position possible into the last ten or five kilometres," she said after the race. "It was a very painful, very long sprint.
"I was just trying to hold off the riders because I could see them coming, and I was trying to catch second as well. I am glad that I could hold off for third."
It is only Garner's second podium of a season blighted by knee problems, which saw her out of action for nearly two months early in the year.
"The knees are a lot better now, but they're still not fully recovered," she continued. "My climbing is not that great and I'm still working on that.
"It's still not the best, but on this type of circuit I'm hoping that I can recover as much as I can and save as much energy and go for the sprint."
Fourth-placed Barnes, who races mainly in the USA and was a junior rival of Garner's, is local and had ridden the course in training. "I knew what was coming," she told Cycling Weekly. "I knew when it was going to get twisty or start rolling, so I knew when to get to the front.
"I am pleased, there's definitely progression there, I'm getting better at it, so hopefully tomorrow I can get on the podium or get a stage. It's always been a battle between Lucy and I from when we were younger."
Former national champion Sharon Laws took the combativity prize for the day, having bridged to a two woman attack who had a gap nearing one minute. Though the trio extended their gap to 3 minutes 30, they were brought back with only four kilometres to ride.
Stage winner Majerus, a Boels-Dolmans team mate of Lizzie Armitstead, was third in yesterday's sprint into Clacton, and today's win moves her into the race lead.
It was her first win of the year and she was clearly delighted: "It went like we planned, but it's even better when everything goes perfect. I was so well protected from my teammates, that I just could not not win."
Though the team only have five riders remaining, they have the strength, and Majerus the legs, to hold the jersey for the final two days. Saturday's stage travels a 103 km route between Waltham Cross and Stevenage in Hertfordshire.
Aviva Women's Tour stage three, Oundle - Kettering
1. Christine Majerus (Boels-Dolmans)
2. Barbara Guarischi (Velocio-SRAM)
3. Lucy Garner (Liv-Plantur)
4. Hannah Barnes (United Health Care)
5. Emma Johansson (Orica-AIS)
6. Lisa Brennauer (Velocio-SRAM)
7. Jolien D'Hoore (Wiggle-Honda)
8. Trixi Worrack (Velocio-SRAM)
9. AmalieDideriksen (Boels-Dolmans)
10. Simona Frapporti (Alé-Cipollini)

Aviva Women's Tour overall after stage three
1. Christine Majerus (Boels-Dolmans), 9-46-09
2. Jolien D'Hoore (Wiggle-Honda), at 3 seconds
3. Lisa Brennauer (Velocio-SRAM), at 4 seconds
4. Emma Johansson (Orica-AIS), at 9 seconds
5. Barbara Guarischi (Velocio-SRAM), at 10 seconds
6. Lucy Garner (Liv-Plantur), at 12 seconds
7. Hannah Barnes (United Health Care), at 13 seconds
8. Simona Frapporti (Alé Cipollini), at 19 seconds
9. Alexis Ryan (USA), st
10. Pascale Jeuland (Poitou-Charentes Futuroscope.18), st
Wiggle Honda talk about the 2015 Women's Tour