Marco Pinotti: Seven steps to athletic perfection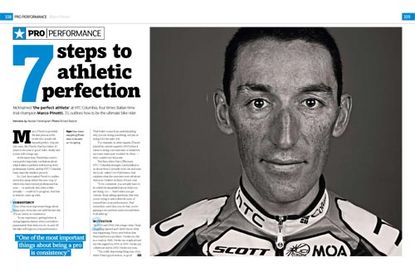 Get The Leadout Newsletter
The latest race content, interviews, features, reviews and expert buying guides, direct to your inbox!
Thank you for signing up to The Pick. You will receive a verification email shortly.
There was a problem. Please refresh the page and try again.
The following article appeared in Cycle Sport magazine, April 2010 edition
Nicknamed "The Perfect Athlete" in HTC-Columbia, four-times Italian time trial champ Marco Pinotti is renowned for his thoughtful and ethical approach to his job. In this unique insight into the mind of a professional cyclist, Marco Pinotti outlines his guide to being the ultimate bike rider.
Pinotti is also probably the last person in the world who would call himself perfect. Anyone who says, like Pinotti, that he's taken ten years to become a 'good' rider clearly isn't a man with a huge ego.
At the same time, Pinotti has he's come to some pretty important conclusions about what it takes to perform well as a professional. And he, and his HTC-Columbia team, have the results to prove it.
So Cycle Sport Pro Performance asked Pinotti to outline seven key areas where the new crop of riders who've turned professional this year - or anybody who rides a bike, actually - could try to progress. And this is what he came up with.
1. Consistency
"One of the most important things about being a pro, from day one until the last day of your career, is consistency.
"In my experience, getting better at racing happens fastest when you believe passionately that what you doing on and off the bike will improve your performance. That belief only comes from understanding why you are doing something, not just doing it for the sake of it.
"For example, back in my time in other squads, [Pinotti joined his current squad in 2007 - Ed.] when it came to doing core exercises or whatever, my team-mates just wouldn't do them - they couldn't see the point.
"But then when Darcy [Norman, HTC-Columbia strength coach] talked to us about them I actually went out and read the book, called 'Core Performance', that explains what the exercises were all about. And now I believe in them 100 per cent.
"To be consistent, you actually have to be a little bit dissatisfied about what you are doing, too - that's when you get curious. Keep asking questions, that way you're trying to add a little bit more of yourself into your performance. And remember, each time you do that, you're gaining a second here and a second there. It all adds up."
2. Motivation
"In 2003 and 2004, I hit a huge crisis. I kept on getting injured and I didn't know what was happening. Every year before that there had been a problem. I broke my ribs in a crash in 1999, I broke my schaphoid and my ribs (again!) in 2000, in 2001 I broke my collarbone and in 2002 I broke my nose.
"The really depressing thing was, even when I had a good season, or good part of a season, I actually didn't know why it had happened. I wasn't asking enough questions.
In 2004, I had a good season and rode the Tour. But I still couldn't find a real reason to keep on cycling.
"So I decided to find a new way to set goals and stick to them.
"In a sense, just deciding I needed to have specific aims was a huge step forward. If you know where you want to go, you will usually find a way to do it.
"But curiously enough, even as I started setting out those goals, for the first time I realised that personal success in cycling was not my whole life, and that I had to have different reasons to continue racing.
"So I talked things over with my coach, Omar Beltran, and I found a reason to go on and do more, which was to show younger pros that a rider can race and win within the rules.
It was like acting I was on a mission. From then on, as soon as I'd taken myself out of the equation, everything went much better.
"But at the same time I had set myself some new goals. My aims don't have to be the same as somebody else's, but clear targets are vital.
"I'm sure people will be saying, 'yes, this all sounds great but what about the team's goals? What happens if I want to be in the Tour de France but they already have a long list of riders and I'm not on it?"
Pinotti at the 2010 Tour of Oman
"Two things then count. You have to be able to make your team understand your needs and you have to understand the needs of your team.
"You look for what you both want and then take it from there. If you can't find an agreement, then you'd better change teams the following year.
"In HTC-Columbia I'm lucky because I know I will get my chance. There is a price - I have to work, too, but it pays off because then my team-mates are happy to help me win, too.
"So be warned: if you just act like you are a winner - in any team - then you'll go under. It's a balancing act."
3. Self discipline
"I think another thing that goes with consistency is self-discipline. You have to be kind of addicted to this sport.
"Cycling can't make you feel like you're constantly making sacrifices. If you wake up in the morning and feel you're not happy at the thought of going out training, then something's going wrong.
"You should feel everything flows and goes well when you're riding your bike, not that it's a problem.
"Self-discipline also means real attention to detail, to all the smaller questions as well as the bigger ones. So when people ask you how many hours a week you train, the real answer should be that you train 24 hours a day, seven days a week, all year long.
"In fact everything, absolutely everything I do, is with an athlete's mindset. Of course, I know I need holidays, but only because I know I need to rest. Whether I want a holiday or not isn't relevant.
"The same thing goes for my family. I stay with them because I love them, but also because I know that when I'm part of a family I'm a more well-balanced person, and that will improve my performance.
"In general, the closer time-wise you are to a race, the more self-disciplined you have to be, and the further away it is, the less. But you can never afford to lose sight of self-discipline completely."
To read parts 4 to 7, Self Confidence, Focus, Balance and Morality, buy Cycle Sport April, available in the UK until March 16. Later in the US.
Read the rest of this article in the April 2010 issue of Cycle Sport magazine, on sale now
Cycle Sport April 2010 issue: find out more>>
Thank you for reading 20 articles this month* Join now for unlimited access
Enjoy your first month for just £1 / $1 / €1
*Read 5 free articles per month without a subscription
Join now for unlimited access
Try first month for just £1 / $1 / €1
Get The Leadout Newsletter
The latest race content, interviews, features, reviews and expert buying guides, direct to your inbox!
Founded in 1891, Cycling Weekly and its team of expert journalists brings cyclists in-depth reviews, extensive coverage of both professional and domestic racing, as well as fitness advice and 'brew a cuppa and put your feet up' features. Cycling Weekly serves its audience across a range of platforms, from good old-fashioned print to online journalism, and video.